So you just heard about the Sandboxx app, eh?
First off, welcome! We know you'll find our app helpful in keeping you connected to your favorite service member. While we're known for getting letters to recruits quickly, we also love helping families learn about military life, too.
With the Sandboxx app, you can:
Stay engaged and informed
Whether you want to keep track of your recruit's progress or just send letters, our app was made with military families in mind.
Ready to learn more?
Here's a look at seven features you should know about the Sandboxx app:
1. You Can Send Letters On The Go
Life is busy. When your recruit leaves for basic training, the rest of your life doesn't stop. You still have commitments like work or school, and other obligations. Sometimes you won't have the time to sit down and write an old-fashioned letter with a pen and paper. The Sandboxx app makes it easy to type out a message no matter where you are — and you can include a photo — right from your phone.
2. You Can Send Exchange Gift Cards
It's never recommended to send cash via a letter to your recruit. But, you can opt to send them a military exchange gift card right from our app. Throughout boot camp, your recruit will get an opportunity to visit the military exchange. At the exchange, recruits purchase necessities like personal care items. The gift cards never expire and can be used at any exchange location, so there's no need to worry about them having to use it all while in boot camp.
3. You Can Expect Quick Delivery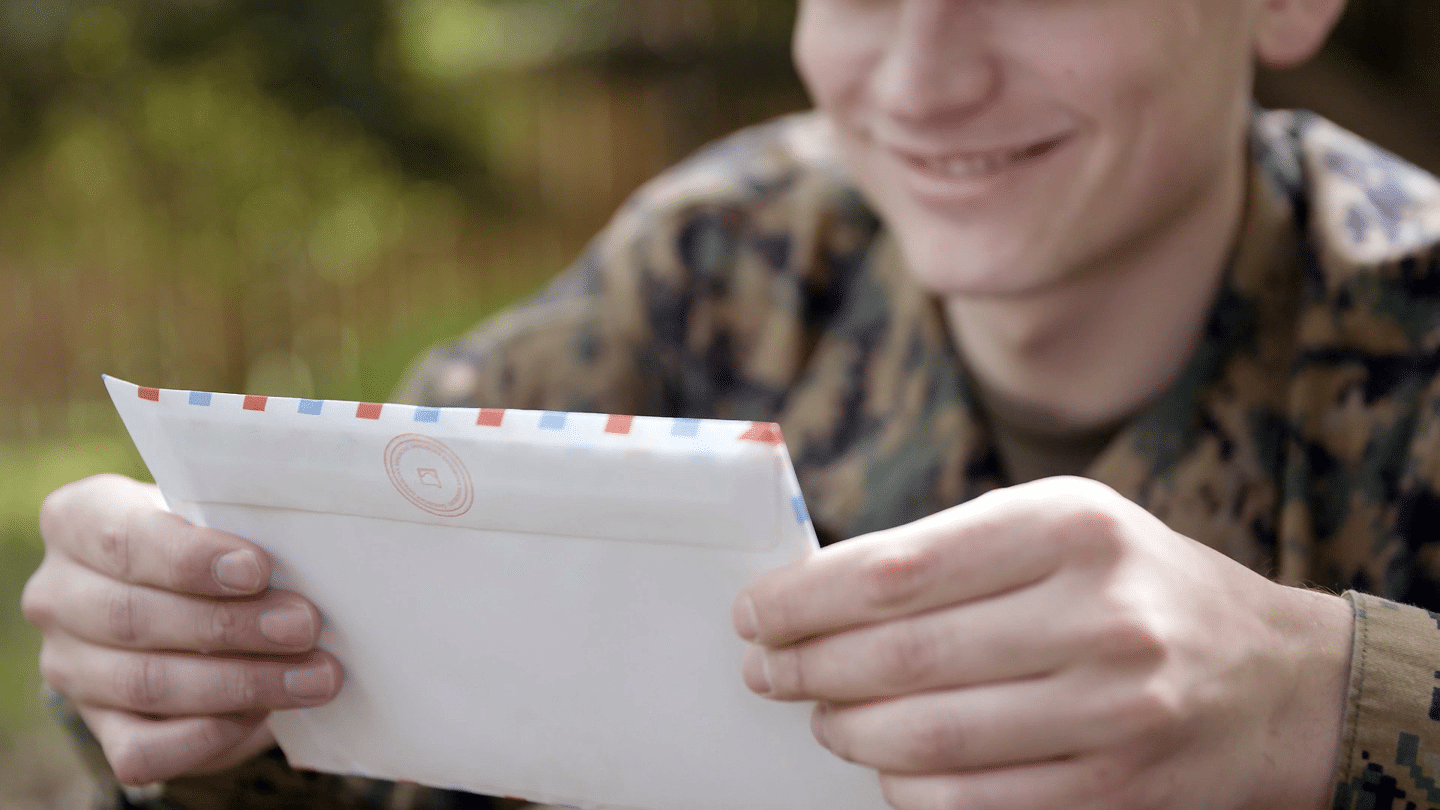 The minute you're finished with your letter and send it from the app, we get to work. Your letter is printed on high quality, premium Mohawk™ paper. It's then packaged into an iconic air-mail designed envelope. Best of all, it gets shipped the same day you send your text and photo off! Your recruit gets their letter 7x faster via the Sandboxx app, thanks to our efficient letter printing locations.
4. You Can Track Your Letter
Just like you stalk your mailman for the latest letter from your recruit, we let you stalk your Sandboxx letter. Our app makes it easy to track your letter as it processes. No need to wonder if your letter got lost in the thousands of envelopes that get sent off to boot camp each week. Our Sandboxx app has the ultimate letter tracking option.
5. Your Recruit Gets Return Stationery
The minute your recruit finishes reading your Sandboxx letter, they can respond thanks to the included blank stationary. Each piece of stationery is branch-specific for your service member. Worried they may have forgotten your address? No problem. We also include a return envelope and self-addressed sheet with your address already printed — so replying is easy.
6. You Can Trust Sandboxx
Security is our top priority. Sandboxx was built by veterans and technology experts who understand the parameters of OPSEC and PERSEC. Every letter you send is printed in our secure facility that can only be accessed by key cards. We have end-to-end data encryption, so even if your phone or laptop is stolen, your sensitive information is never saved in the app. Learn more about our privacy and security policy here.
The Sandboxx App Keeps You Connected
Our mission at Sandboxx is to keep our military families connected no matter how far the military sends service members. And, sometimes, even if they're just a few hours away in training, it can feel like a world away.
We aim to close that gap.
With the Sandboxx app, you'll never be far from your service member. Not only do we ensure your written support gets to them quickly, but our updates on their training status will help you feel in the loop. We love seeing pics of the piles of Sandboxx letters, too, so be sure to tag us on social when you get those cherished letters!
If you're ever at a loss for words, we've got some ideas about that, too:
Have a question or need support using the app? Our customer happiness team is at your service. Many of our team members are military vets or spouses, which means they can better relate to our customers like you. Find answers through our Knowledge Center or reach out through our app to a team member who can guide you.
What questions do you have about the Sandboxx app? Let us know in the comments below!