The Air Force jobs list is as long as it is varied. Depending on your career goals, you can opt for part-time or full-time service. Each option has different benefits and requirements, so it's helpful to talk with a recruiter to best understand each option.
You can choose to serve:
Active Duty (full time)
Air National Guard (part-time)
Air Force Reserve (part-time)
Air Force Civilian Service (full time)
Whatever role you decide to work in, you're guaranteed a position that brings daily excitement and reward. Read on to learn more about the seven coolest Air Force jobs you can explore as an Airmen.
Air Force Jobs to Consider
You may be wondering, "What jobs are there in the Air Force?" With more than 200 options, there are a lot of career paths to choose from. Here we take a look at seven Air Force job opportunities that will ensure your career is full of learning experiences:
1. Military Working Dog Handler
Love dogs? If you work as a military working dog (MWD) handler, you and your canine counterpart will be a part of the military's law enforcement sector. You must be a dog lover as you'll spend a lot of time together on bases looking for drugs and explosives. Your dog will work as your partner daily to keep military installations safe.
What You'll Do:
Train dog teams for canine law enforcement
Work checkpoints at military gates
Conduct investigations for on-base incidents
Direct traffic on base
Apprehend and detain suspects
Special Perks:
Earn college credit — Airman earn credits toward criminal justice degrees
Part of an elite group — Earn the Blue Beret, a symbol of protection
Hangout with dogs — Every day is bring your dog to work day
Potential to work with Secret Service — Can work alongside top security detail
Career requirements include: You must already be a Security Forces specialist with a minimum 18 months of service who also happens to love working with dogs. You'll need both physical and mental toughness to handle day-to-day duties. An interest in training in law enforcement and combat tactics is a must.
Learn more about Air Force MWD Handler opportunities here.
2. Pararescue
If taking part in saving lives sounds like your dream career, check out pararescue work. Any time an injured Airman needs to be rescued from an unreachable or hostile area, it will be your responsibility to bring them home.
Pararescue Airmen are part of the Air Force's Special Ops team that save and medically treat downed military personnel. Highly-trained, these experts are scuba divers, parachutists, and rock climbers. Arctic training is a must, too.
This career takes 100 weeks of some of the most difficult military training to achieve completion status.
What You'll Do:
Conduct conventional or unconventional rescue operations
Take part in search and rescue missions
Perform life-saving procedures on injured personnel
Assist NASA in recovery missions
Special Perks:
Top-notch training — Member of one of the most elite military groups
Learn endurance — You'll earn a maroon beret for your rescue efforts
Adventure awaits daily — Each mission is different and challenging
Save lives — Rescue others in some of the most difficult environments
Career requirements include: Multiple successful training completions including physical qualification for aircrew, parachute, and marine-diving duty. You'll also need successful completion of the Pararescue Physical Ability and Stamina Test. Normal color vision and depth perception is a must for this role. The age requirement is between 17 and 39.
Learn more about Air Force pararescue opportunities here.
3. Doctor
If a career in medicine intrigues you, you'll find nothing more rewarding than caring for our nation's Airmen. Then, you'll have access to scholarships to cover all tuition, books, equipment, and supplies. Whether you want to be a general practice doctor or train as a specialist like an allergist or dermatologist, the Air Force needs a variety of physicians across the globe.
What You'll Do:
Work with patients all over the world
Diagnosis a multitude of health conditions
Work in a variety of settings from ambulatory to large medical centers
Concentrate on patient care and research and less on paperwork
Special Perks:
Help others — Assist Airmen in achieving optimum health
Make big contributions — Take part in cutting-edge research
Get paid to go to school — Scholarships may cover school costs
Career requirements include: Before entering the program, you'll need an undergraduate degree in pre-med. A love for learning and continued education is a necessity in this field to keep on top of medical advancements.
Learn more about Air Force doctor opportunities here.
4. Judge Advocate General's Corps (JAG)
As a law professional, you'll provide a variety of legal services to the U.S. Air Force and Airmen. You can also continue your education in a number of legal specialties and work around the globe at any military installation.
You can apply as a student, licensed attorney, active military, or reserve member, but the process is competitive. Highly experienced officers of the JAG Corps often serve as military judges in courts-martial and courts of inquiry.
Areas of law you may receive additional training in include: government contracts (procurement), labor law, air and space law, international law and environmental law.
What You'll Do:
Practice all types of law from administrative to environmental law
Assist Airmen with legal concerns like tenant-landlord contracts
Serve as prosecutors for the military during courts-martial
Defend and prosecute under the Uniform Code of Military Justice
Special Perks:
Travel opportunities — JAGs are needed around the world
Unique experience — Military law offers daily variety in work duties
Assist service members — You can help Airmen in tough situations
Work/life balance — JAGs schedules aren't as rigid
Career requirements include: An interest in law and the judiciary system is a must, along with a willingness to go through a competitive application process. A JAG position is unique in the fact that there are so many ways to enter into the field. Depending on where you're at in your career, you can enter as a student, an attorney, active-duty member, or air reservist.
Learn more about Air Force JAG opportunities here.
5. Pilot
Air Force pilots take to the skies around the world during special missions. Pilots are responsible for flying aircraft as well as training and commanding crews.
There's a need for pilots as fighters, trainers, bombers, advisers, and more. Once you enter the Air Force after you've received your bachelor's degree, you'll continue training for another 9.5 weeks at Maxwell Air Force Base.
What You'll Do
Master advanced aviation
Plan and prepare for missions
Specialize in a specific aircraft operation
Lead and train aircrew
Special Perks:
Enter as an officer — A bachelor's degree lets you start as an officer
Practical skills — Hone skills that transfer easily to civilian life
Unique position — Very few Airmen get to hold a pilot status
Career requirements include: At a minimum, you must have a bachelor's degree and start pilot training between the ages of 18 and 29. You'll need to have completed Air Force Specialized Undergraduate Pilot Training, a Single Scope Background Investigation (SSBI), along with successful completion of Officer Training School (OTS), Air Force Academy (AFA) or Air Force Reserve Officer Training Corps (AFROTC).
Learn more about Air Force pilot opportunities here.
6. Space Systems Operations Specialist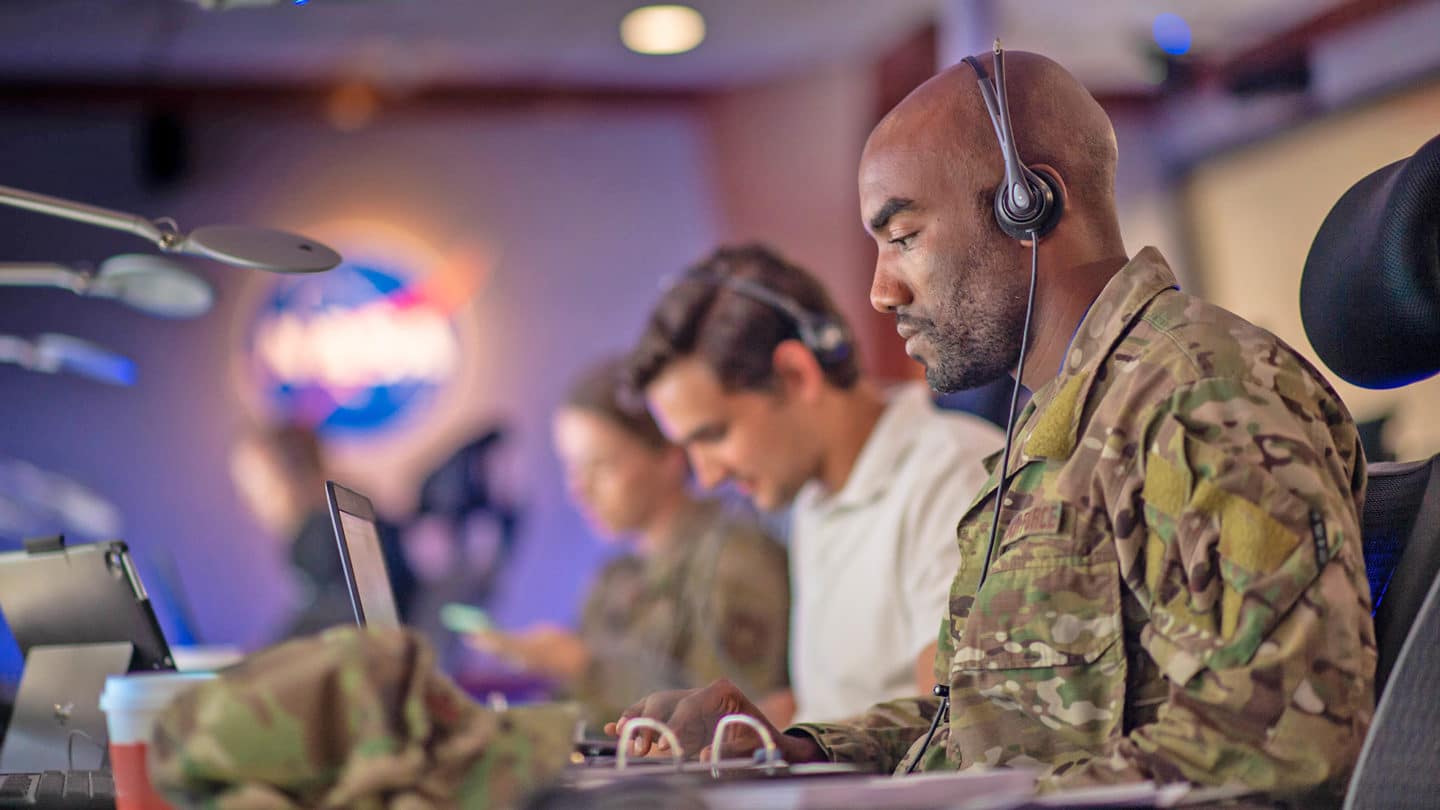 As a Space Systems Operations specialist, you'll be the support behind the largest space program in the world. Space Systems Operations specialists are responsible for a variety of tasks from detecting sea-launched ballistic missiles and tracking satellites to assisting in rocket launches and space flight operations. If you've always loved space, this role could be a great fit for you. It's worth
What You'll Do:
Keep continuous watch of orbital parameters on earth satellite vehicles
Operate defensive and offensive space control systems
Detect and track missile launches
Perform launch and on-orbit operations for military satellites
Ensure effectiveness through operational testing and evaluation
Special Perks:
Witness unique missions — Experience firsthand space missions
Constant education — Retraining helps you stay on top of technology
Civilian job opportunities — Space programs will need your expertise
Young recruits allowed — You can start as young as 17 in this field
Career requirements include: You'll need a high school diploma, GED or GED with 15 college credits. A normal color vision and successful completion of a National Agency Check, local agency checks and credit are required. You'll also need to pass the Single Scope Background Investigation and be between the ages of 17 and 39.
Learn more about Air Force space systems operations opportunities here.
7. Band Member
Spread the mission and pride of the Air Force through your musical talent as a band member. Musicians of all types are needed, including: Vocalists, percussionists, electric guitarists, pianists, brass, woodwind players, music arrangers and sound engineers. These roles work together to rehearse and perform at military and public events.
Enlisted individuals can be a part of the premier band or a regional band, while officers can step into a band officer role.
What You'll Do:
Honor all veterans
Play professionally around the world
Connect with the public at special events to support the community
Recruit for the Air Force at public events
Special Perks:
Focus on your talent — Music will be a daily part of your life
Work with gifted Airmen — Share your love of music with others
Travel the world — Musicians are needed across the globe
Career requirements include: Enlisted members will need to have prior musical experience and knowledge of rehearsal techniques and musical conducting. A high school diploma or GED is required. Band officers will need a bachelor's degree related to music education or a focus in conducting and instrumental performance
Learn more about Air Force band member opportunities here.
Air Force Jobs Offer Exciting Adventures
The U.S. Air Force always aims high. No matter which career you want to settle on, your role will be a part of a bigger mission to defend and protect our country.
This Air Force jobs list just scratches the surface of some of the opportunities that await.
For more role descriptions, visit the U.S. Airforce's website to explore the career section. You may be surprised to find there's a career for nearly every interest and passion out there that provide personal growth and professional development.
Want to learn about amazing jobs in other branches? Check out these posts:
If you have any questions about an Airman's journey, feel free to reach out to us on Facebook. We love answering questions about military life!
Need to know more about the Air Force PT Test? Learn more about the requirements for the test here.