Air Force Basic Training Graduation is an Airman's first step into their career, a huge accomplishment and an unforgettable moment for both them and their family and friends. To take the stress out of your trip here's all you need to know for Air Force Basic Training graduation.
Where is Air Force Basic Training Graduation?
Air Force Basic Training Graduation is held at JBSA Lackland in the city of San Antonio. When traveling to graduation San Antonio International Airport (SAT), quick 20-minute drive to the base, is the easiest airport to fly into.
If you are driving, the addresses for JBSA Lackland are:
What do I need to get on to JBSA Lackland?
Each trainee must complete a Visitor Access Request Letter (VARL) for all anticipated guests to receive passes. Guests must have their Visitor Access Pass and a picture ID in order to enter JBSA Lackland.
Each trainee must complete a Visitor Access Request Letter (VARL) for all anticipated guests to receive passes. Once completed, the trainee will mail these passes home.
Most VARL forms are obtained from the recruiting service and are completed by the trainee prior to departing for Basic Military Training. However, in some unique situations, your trainee may contact you stating to complete a VARL form, or ask for information so they can complete this form.
Trainees are responsible for mailing out passes during the 3rd week of training. You should receive your Visitor Access Pass (VAP) by the 5th week of training.
If you do not receive your VAP, reach out to your trainee through a Sandboxx Letter or during an authorized telephone call. If you do not have a VAP, or a valid Department of Defense ID, you will not be allowed access to the base. Due to JBSA Lackland security procedures, you may experience delays getting onto base.
Each visitor must have a pass issued in their name and a picture ID card (government issued) in their possession while at JBSA Lackland.
If you did not receive a Visitor Access Pass prior to arriving at JBSA Lackland, you are required to visit the Luke East Visitor Center upon arrival, which is open 24 hours daily. The BMT Reception Center cannot verify guest lists or visitor pass issuance. You may check with your trainee during an authorized telephone call on the status of your pass or passes.
Also, note that vehicle insurance and registration will be asked for if you arrive by car.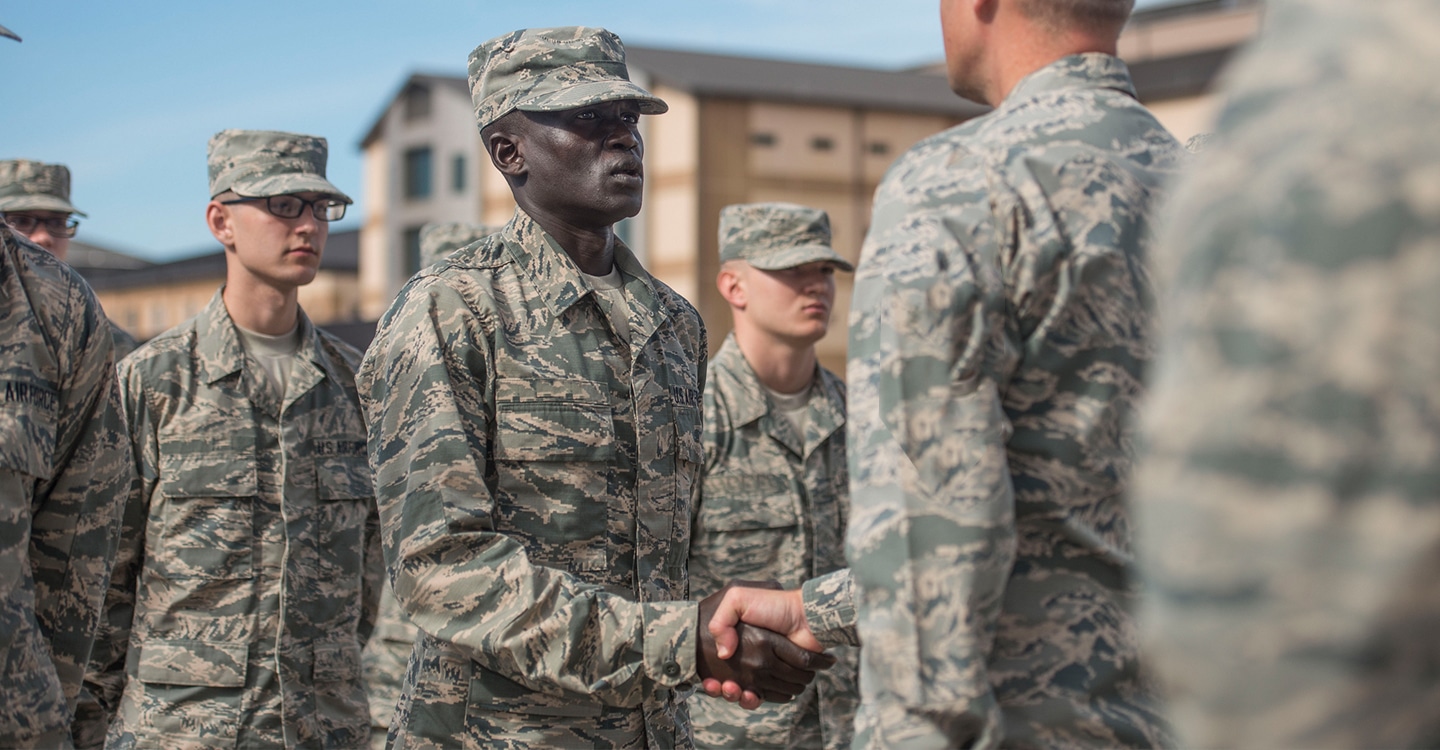 Air Force Basic Training Graduation Dress Code
The Airman in Training will be dressed in their dress uniforms. You can dress casually, or in your Sunday's best, there's no official dress code.
We recommend checking the weather a day in advance. JBSA Lackland is in Texas so it tends to be on the warmer side but that can also mean rain showers so be prepared for all weather scenarios when packing.
All Air Force graduation ceremonies take place outside so you will have to endure the elements. Only in extreme weather conditions will, graduation takes place indoors, so bring an umbrella and some sunscreen, you can never be too prepared!
How Many Can Attend Air Force Graduation
Each trainee is allowed to bring up to 10 loved ones to Graduation day. Children or those with military affiliation are not included in this number so this should allow most of your future Airman's loved ones to attend.
Air Force Basic Training Graduation Schedule
Thursday – Coin and Retreat Ceremony
07:00 and 09:00 – Orientation Briefings
Orientation briefings take place at Pfingston Reception Center, where loved ones of new Airman given all the information they need to know about graduation weekend. Briefings will take place before and after the Airman's run, you need only attend one.
08:00 – Airman's Run
The Airman's run will be the first time you see your new Airman since they left for Basic training and is a proud and cherished moment for families and friends. Don't be surprised if your Airman is unrecognizable at first, they have undergone a huge transformation not only mentally but physically as well.
The Airman's run is a 2.5 mile run across the Retreat Pad where you can cheer your Airman as they run by singing "Joedies" in flight formation. Joedies are military cadences the trainees run to during BMT.
On this day they will be singing loud and proud for all of the families to hear as they cross the Retreat Pad twice, giving you plenty of opportunities to get pictures and videos.
09:45 – Airman, Spouse, and Parent Orientation
At Pfingston Reception Center, attendees will learn about tech training, pay, entitlements, benefits, and available services now that their Trainee has officially become an Airman and is useful to attend.
10:30 – Honor Grad Reception
The Commander of BMT invites honor graduates and their families to a special ceremony in their honor prior to the start of the Airman's Coin Ceremony which begins at 10:45.
All families attending Air Force graduation should be in their seats by no later than 10:30 as there is little to no interlude between the ceremonies. This will give you a chance to set yourself up for all those pictures you're going to want to take.
After the Honor Grad Reception, any graduating non-U.S. Citizen trainees will recite the Oath of Allegiance to the United States and be naturalized.
11:00 – Airman's Coin Ceremony
The Coin Ceremony is the official point when a trainee becomes an Airman, this is the moment your trainee has worked tirelessly for over the past eight weeks.
The Coin Ceremony starts immediately after the Honor Grad Ceremony. Flights will march on the Retreat Pad and receive their coin. The Retreat portion of the ceremony follows next.
During Retreat, the U. S. Flag is paid tribute to, brought down, folded and safeguarded. After this, Airmen will sing the Air Force Song and be dismissed for Base Liberty.
At this point, families are invited onto the Retreat Pad to "tap out" their Airman. Tapping out is a long-standing tradition where a family member or friend simply taps their Airman on the shoulder which releases them from the Ceremony.
An airman with no loved ones present can be asked if they would like to be tapped out or they can choose to wait, it is not a requirement but a nice tradition to uphold. Most Airmen will be released right after the ceremony for base liberty.
20:00 – End of Liberty

Airmen are due back in the dormitory by 8 pm. It is a strict deadline and should be followed. As you will be on base for the day, it isn't a major concern but should be kept in mind, you don't want to be the cause of your Airman being late.
Friday – Graduation Day
07:15 – Orientation Briefing

At Pfingston Reception Center, this is only for families that missed Thursday's Orientation Briefing. You don't need to attend twice.
07:15 to 08:30 – Transportation to the Parade Ground

There will be transportation to and from the Pfingston Reception Center to the parade grounds for handicapped +1 only, starting at 7:15am until 8:20am. Remember that getting on to the base can take time so factor that into your morning routine. There is plenty of parking at the parade grounds if you arrive at 7am. If you arrive later there's overflow parking within walking distance to the parade field.
09:00 – Graduation Parade

The Air Force basic training Graduation parade is the final official ceremony associated with graduating from basic training. It usually takes about 45 minutes from start to finish.
The ceremony begins with the playing of the National Anthem, the invocation, and recognition of distinguished visitors. Next, the honor flight is recognized and awarded the Honor Flight Streamer.
The flights will then pass in review. Airmen will sing the Air Force Song. The reviewing officer will address families and Airmen. Airmen will reaffirm their Oath of Enlistment and recite the Airman's Creed.
Flights are dismissed and Airmen are released to their visitors. There are great photo opportunities by historical aircraft positioned around the parade field.
10:15 to 11:15 – Squadron Open House

The Squadron Open house gives you the opportunity to see where your Airman has been living for the past 8 weeks. You'll be able to see a bit of what their experience was like during training.
11:15 – Town Pass

Immediately following the squadron open house, Airmen must remain in the San Antonio metropolitan area. Airman should be able to visit Sea World, Fiesta Texas and family or friends near local military installations, including Randolph AFB.
There are certain establishments that are off limits but your Airman will know in advance. San Antonio has plenty to offer; food, attractions, and relaxation so you'll be spoiled for choice of how to spend your day.
20:00 – End of Liberty

Airmen due back in the dormitory and similarly to Thursday, it is a strict deadline. If you are traveling to the San Antonio area, keep in mind the time it will take to travel back to JBSA Lackland and get onto base.
What Happens After Air Force Basic Training Graduation
After Air Force basic training graduation, Active Duty Airmen will leave for Tech School. Tech School will begin the following Monday, so Airmen will not receive leave before their next school. Some Tech School's require Airman to check in on Sunday evening. Your Airman will know where and when they need to report before graduation.
If an Airman is in the Guard or Reserve then they will go to Tech School when an opening is available.
Air Force Basic Training Graduation Gifts
It is not required to get your Airman a graduation gift. If you choose to get your Airman a gift, we encourage you to look at our basic training gift guide. Our gift guide is filled with ideas from current service members who shared the best/most practical Basic Training Graduation Gifts.
---
The feeling you will get when you see your New Airman for the first time, will be more than you could ever imagine. It is truly a special day and time to enjoy and celebrate with your Airman and family.
Happy travels, and congrats to you and your soon-to-be new Airman!