Since its official inception in 1947, the United States Air Force has been a force to be reckoned with.
The second-largest branch of the military has over 325,000 active-duty members.
While it may be among the youngest of the five military branches, its power is clear. From flying exclusive missions to breaking sound barrier records to tracking Santa, the USAF has a fascinating background that most people don't know about.
If you're curious about fun Air Force facts — like who broke the sound barrier — then this post is for you.
Here's a list of nine things you probably didn't know about the U.S. Air Force:
1. It was a U.S. Air Force captain who broke the sound barrier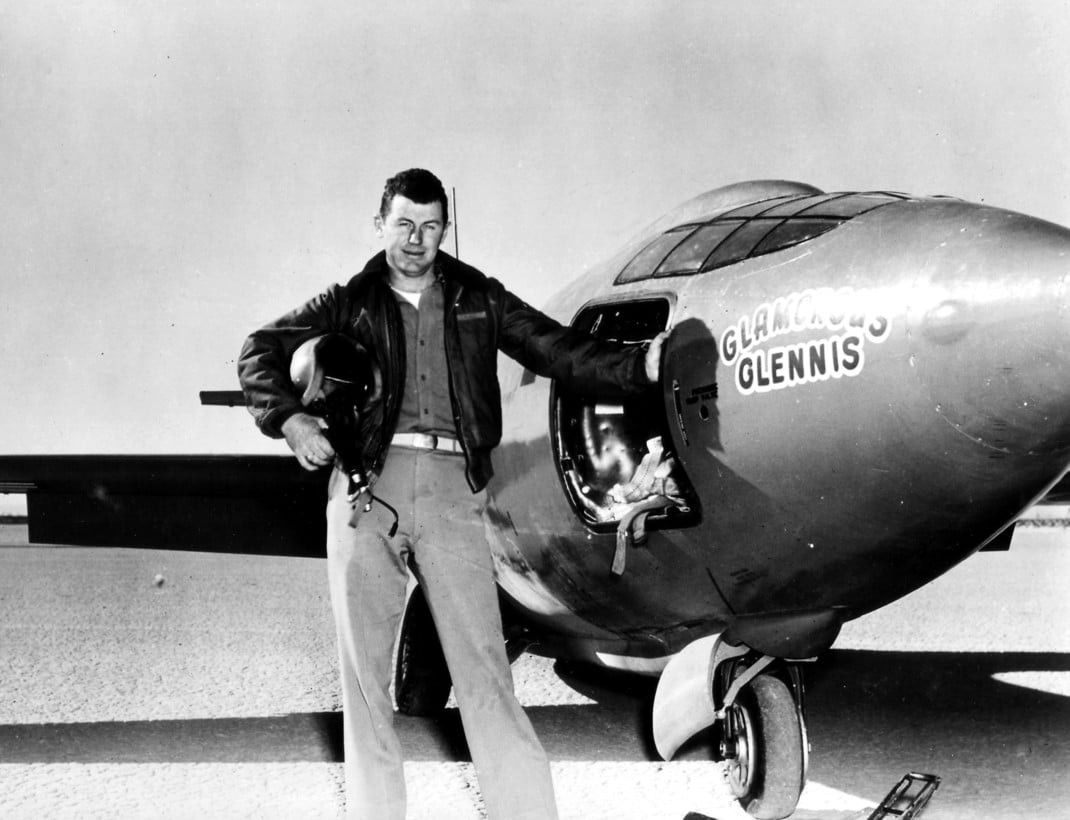 Captain Charles Elwood Yeager first broke the sound barrier in 1947. He was flying a Bell X-1 rocket-powered aircraft as a test pilot. His top speed was at 700 mph at a dizzying 43,000 feet up. Later in his career, he trained military pilots to become astronauts. Up until his 1975 Air Force retirement, he served at multiple command posts.
2. The U.S. Air Force has had its fair share of celebrities
While this list isn't by any means exhaustive, here's a look at some celebrities who served in the Air Force before they became ultra-famous.
Chuck Norris – This American martial artist, film producer, actor, and screenwriter was once an Air Policeman (now called Security Forces).
Ronald Reagan – Not only was the former 40th President of the United States an actor, but he also served as a Captain in the United States Army Air Forces.
Clark Gable – Known as "The King of Hollywood" who starred in over 60 major motion films, this actor also served as a Major in the United States Army Air Forces.
Johnny Cash – Perhaps more well known for his songs like "Ring of Fire" and as the "man in black," this singer served his country as a USAF Staff Sergeant.
Morgan Freeman – Before his time on the big screen, the actor served as an Airman 1st Class in the United States Air Force.
James M. Stewart – The It's a Wonderful Life actor was drafted into the U.S. Armed Forces and assigned to the Army Air Corps. He left the military as Brig. Gen. Stewart.
Charlton Heston – This American actor and political activist served as a USAF Staff Sergeant before his lengthy 60-year acting career.
3. The Air Force tracks Santa
Perhaps one of the coolest jobs Air Force members are tasked with is to watch and track Santa as he treks the globe on Christmas Eve. The NORAD Santa Tracker goes live every December to track Santa's trip around the world, courtesy of the North American Aerospace Defense Command AKA the Air Force.
4. It was originally a part of the U.S. Army

Before it became its own branch, the United States Air Force was a part of the Army from 1907 to 1947. The National Security Act of 1947 separated the Air Force into its own military branch. That same act established the Central Intelligence Agency (CIA) as well.
5. They built a supercomputer out of PS3s
The Air Force used 1,760 Sony PlayStation 3 consoles to build the world's 33rd fastest computer. Unveiled in December 2010, it was called the "Condor Cluster" and was housed in Rome, New York. The supercomputer had a capability of 500 trillion floating point operations per second. The cost? A smooth $2 million.
6. "Mustache March" was born in the Air Force
Air Force legend, WWII and Vietnam veteran, and triple ace Brig. Gen. Robin Olds is honored every March by Airmen growing "bulletproof mustaches." The tradition started as a way to honor the Brig. Gen., who is often considered one of the greatest fighter pilots of all time.
7. What it takes to be called an "Ace"
You can't be an "ace" unless you've shot down five or more enemy aircraft. The record is held by U.S. Air Force Capt. Joseph C. McConnell, Jr. who shot down 16 enemy fighter jets during the Korean War. The effort landed him the title "Triple Ace" over a four-month period.
8. The Air Force Band shoots music videos
Music is naturally intertwined in military life. The USAF recruits singers and musicians for entertainment and inspiration for the public and service members themselves. The Air Force actually has several bands and even a YouTube Channel.
9. The Special Ops Weatherman mission changed
Formerly known as Special Operations Weathermen (SOWT), last year the name changed to special reconnaissance. Before, the SOWT role focused on specialized weather analysis. Now, it will include reconnaissance-specific training, along with military free-fall and combat diver courses.
What does the Air Force do? A lot more than flying
Leaving for Air Force basic training? Check out our post on Preparing for Air Force Basic Training to understand the basics of what you'll need to know!
As you can see from the Air Force facts above, Airmen do much more than flying these days.
If you're more comfortable on land than in flight, you still have plenty of career opportunities available in the United States Air Force. You can train for almost every career field, including health and medicine, intelligence, nursing, special warfare, natural science, and more.
What more would you like to know about the Air Force background and history? Let us know in the comments below. We may just answer your question in a future blog!
Read more from Sandboxx News:
This article was originally published 8/29/2020