With what is arguably one of the most badass names in military history, the story of the female aviators nicknamed Nachthexen, or "Night Witches" by German soldiers, tends to fly under a lot of people's radar (bad pun intended). Flying no-frills wooden planes with ill-fitting uniforms and no parachutes, these Soviet pilots not only faced off against Nazis, but also judgment, doubt, and mistreatment by many of their male counterparts.
From the start of WWII, Russian women were looking for ways to contribute in both support roles at home and in hands-on roles near the front lines. These women had a seasoned advocate in their corner, in the form of Soviet pilot Colonel Marina Raskova.
Raskova, known to many as the "Russian Amelia Earhart," had already made a name for herself as the first female navigator in the Soviet Air Force, with an impressive number of long distance flights already recorded. Once Raskova began receiving letters from women asking how they could help, she used her position within the military to open up new opportunities for them. Her success was helped by the fact that Joseph Stalin personally knew and respected Raskova and her efforts, and in October of 1941, he ordered her to create three female-only air squads. While two of them inevitably became mixed-gendered, the 588th Night Bomber Regiment remained exclusively women for the entirety of its existence.
Around 400 women, ranging in age from 17 to 25, were selected and moved to Engels, where they began training at the Engels School of Aviation. In addition to having to learn years worth of training and information in just a few short months, they also had to deal with misogyny from many of the male soldiers within the Soviet ranks.
Since the women of the 588th were seen by many to be less than, or as "little girls," they weren't taken seriously or provided proper equipment. The female pilots were given ill-fitting male uniforms and oversized boots, which they would have to stuff with their own torn-up bedding to ensure a better fit. With sexual harassment and ridicule a daily occurrence, these women had to learn quickly how to be stronger both in and outside of battle.
Related: The forgotten code breaking women of WWII
They also weren't able to equip their planes with things like parachutes due to a lack of funds and strict weight limits for the outdated aircraft they were provided. These planes were crop dusters from the 1920s and typically only used for training purposes. Made predominantly of canvas and plywood, the two-person Polikarpov Po-2 biplanes were considered by most to be a death wish if used in combat.
Related: How a prop-driven biplane took down a jet fighter in the Korean War
Since the plane itself already posed so many of its own safety issues, flying at night was really their only way to ensure any sort of stealth and safety. Most runs would happen with three planes, the first two meant to draw attention and enemy fire, with the third being the one to drop the bomb. What made this so dangerous is the fact that the third plane, to avoid detection, would have to cut their engine and glide over their target as quietly as possible.
Getting the engine back up and running after the drop was always a "fingers crossed" kind of scenario, given the age and ability of the aircraft. One of the only things these planes offered in their favor was the fact that, due to their slower top speed, they were able to maneuver faster than the German planes, making it harder to get a target on them. In terms of defense munitions on board, there was little to none. Many pilots would have only a loaded pistol, typically leaving the last bullet for themselves, as suicide was preferable to being captured.
The main goal of the 588th was to disorient and sleep deprive the enemy, and soon after beginning their runs, it became clear that they were successful. Not only were the Nazis thrown off by the near-nightly attacks, but they were also particularly incensed when they learned that an all-woman regiment was responsible. The name "Night Witches" was given by the Nazis — due to the noise the planes would make when they would glide, engines cut, overhead. They described it as the sound of "brooms sweeping."
Related: Facts woven into Tarantino's fiction of 'Inglourious Basterds'
Despite their clear aptitude and success, the Night Witches, a name they wore with pride, continued to receive criticism and contempt from many of the males in the Soviet military throughout their time in the war. They were arguably never given the complete appreciation and recognition they deserved. That didn't seem to bother them too much, however, and they went on to fly around 30,000 sorties and have 23 of their pilots awarded the title of Hero of the Soviet Union.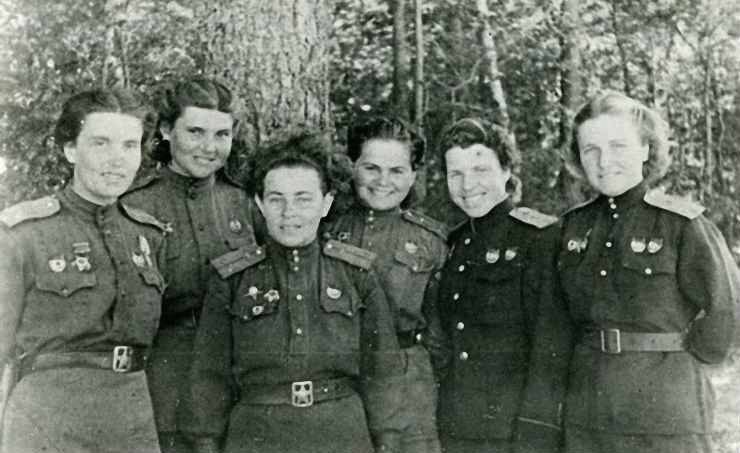 While the roles of women in the military have continued to grow and evolve across the globe, the Night Witches were instrumental in showing that women are just as capable, even with minimal support, respect, equipment, and with all the odds stacked against them. It's stories like these, the lesser-known tales, that add so much to history. It's these stories that set the stage for where we are today.
Read more from Sandboxx News:
This article was originally published 3/8/2021