One of the world's leading stealth aircraft manufacturers released an enigmatic render on Instagram last week, prompting many to wonder if we just got our first glimpse at a competing design for America's new Next Generation Air Dominance (NGAD) fighter.
On July 1, Lockheed Martin posted a series of images to its official Instagram account in celebration of the 80th anniversary of the firm's legendary Skunk Works division. Most of these simple drawings represented groundbreaking aircraft designed and fielded by the Skunk Works over the past eight decades like the U-2 Spy Plane, SR-71 Blackbird, F-117 Nighthawk, and F-22 Raptor.
But the final image didn't resemble any jet we've ever seen emerge from Lockheed Martin hangars before… Many have theorized that this drawing may actually be of an aircraft competing for the NGAD contract, which could mean this is the world's first new stealth fighter to be revealed on Instagram.
Related: Why America's new NGAD fighter could be a bargain, even at $300 million each
What do we know about the NGAD fighter?
The United States Air Force has been funding the development of a new stealth air superiority fighter slated to replace the F-22 Raptor since 2014. But for years, that development explicitly focused on maturing new technologies for the endeavor. It was only recently that the Air Force announced that it was pivoting its Next Generation Air Dominance (NGAD) effort away from technology maturation and toward fielding a new operational fighter, with a winning design now expected to be chosen sometime in 2024.
This new fighter is expected to be stealthier than any that came before it, with superior sensor range and data fusion capabilities, and a bevy of AI-enabled drone wingmen flying by its side. In fact, this jet is expected to be so far beyond the most advanced fighters of today that it's anticipated to serve as the basis for an entirely new generation of fighters — one we'll know as the 6th generation.
Based on official statements of the Air Force, we know there are still two firms competing for the NGAD fighter contract — though we can't say for sure which. It's been assumed that America's big three aerospace prime contractors — Northrop Grumman, Boeing, and Lockheed Martin — each had their hat in the ring, and there's no way to say which of these three may have already been eliminated. Lockheed, however, is widely considered to be the frontrunner in this competition, with two stealth fighters already in service and decades' worth of experience with these sorts of endeavors.
But it isn't just timing that's led some to wonder if this simple drawing represents one of the front-runners for the F-22's replacement. It's also similarities between this render and previous renders of 6th generation fighters Lockheed Martin has released over the years.
Related: Voodoo II: Could a simple patch give us a sneak peek at NGAD?
Lockheed Martin's 6th generation fighter renders, leaks, and promotional images
Over the years, Lockheed Martin has dropped several not-so-subtle hints about their interest in fielding a 6th generation fighter to the public, starting as far back as 1999 with their X-44 Manta— a tailless, delta-wing aircraft based on the F-22 Raptor but meant to test the feasibility of an aircraft that relied on 3D thrust vector control to compensate for the removal of control surfaces.
Today, it's tough to deny the similarities between the Manta concept and renders we've seen for 6th-generation fighters.
Work behind the scenes on this concept seemed to continue well after the Manta program concluded, with Lockheed Martin releasing a calendar to journalists in 2012 that showed a different advanced fighter design that seemed to borrow some design elements from Northrop Grumman's YF-23 that competed and lost against the F-22 for the Advanced Tactical Fighter contract in 1991.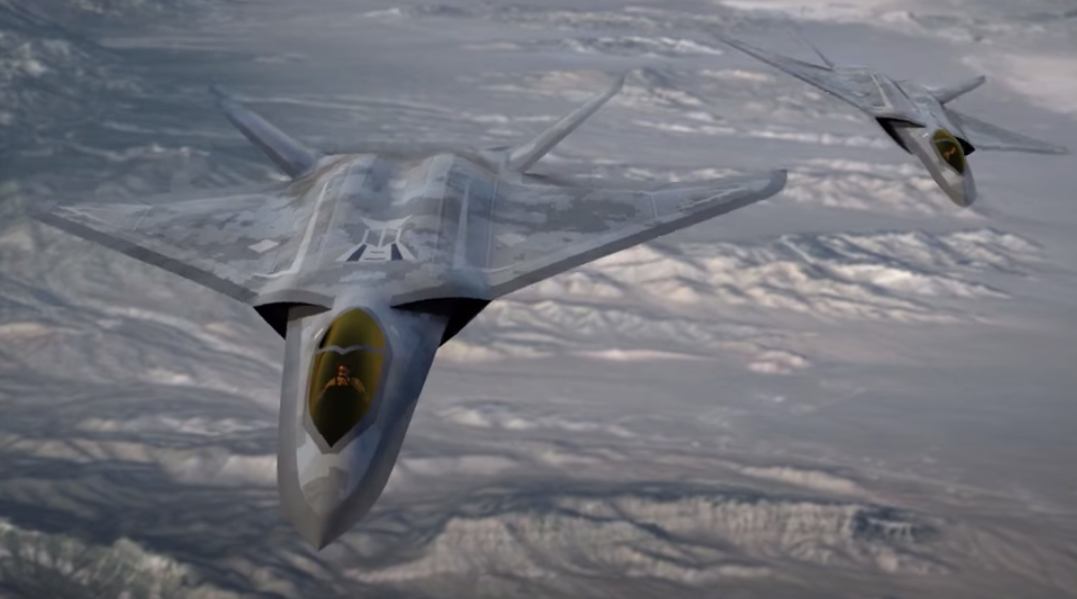 That design would surface again in promotional materials released in the years that followed, including a video released in 2017, though later in that same year, Lockheed Martin would release the first render of a different design:
That design appears to be carried over into more recent renders released by Lockheed Martin, including graphics released to promote their LMXT tanker aircraft just last year:
Then, in October of 2021, images surfaced of a very unusual and stealthy design sitting on a trailer at Lockheed Martin's Helendale radar-cross section (RCS) measurement facility, raising new questions about their 6th generation fighter program.
However, despite Lockheed's clear low-observable history, the incredible cost overruns associated with both the F-22 and F-35 may ultimately hurt the firm's chances at securing yet another advanced fighter contract. And the Air Force's concerns about ensuring the nation's prime contractors remain funded to continue competition may also encourage Air Force officials and lawmakers to look elsewhere for America's next stealth fighter.
As a result, this new render may not even be a real competitor for the NGAD contract, but may instead be a reveal of Lockheed Martin's entry that has already been taken out of the running. If that were the case, it seems likely that the NGAD design will come out of either Northrop Grumman or Boeing.
In any case, we likely won't know what this render depicts until a winner for the NGAD contract is announced in 2024.
And when the time comes to announce the winner of this new stealth fighter contract, we can only guess if that announcement will be made via Instagram…
Feature image created by Alex Hollings using Lockheed Martin promotional materials
Read more from Sandboxx News