As parents, family, and friends of a current or future service member facing the biggest challenge of their life, we know how important it is for you to stay connected with your new recruit throughout boot camp, deployments and beyond.
What is the Sandboxx App?
Developed by veterans, Sandboxx is a mobile and web app that provides a quick and convenient way for friends and family to send letters to their recruit in training.
With Letters, spouses, parents, other family members, and friends can easily and meaningfully communicate with their loved one at boot camp or overseas in near-real time.
With a few taps on your phone, your personal image and message are converted into a physical letter. Your Letter is then printed and shipped to your hero's base, just in time for mail call. Sending Letters to basic training has never been so quick or easy!

What is a Sandboxx Letter?
A Sandboxx Letter is an electronically composed message that is printed into a physical letter, and sent to recruits in training. Sandboxx Letters are delivered overnight to base, making them faster than traditional snail mail.
We know that you have options when it comes to getting your message into the hands of your future service member. What is it about Sandboxx Letters that make them the best way to reach your recruit?
Sandboxx Letters are:
EASY. With Sandboxx, you can send a Letter directly from our app from the palm of your hand, wherever you are. We'll then print it and deliver it.
MEANINGFUL. Each Sandboxx Letter includes a custom message that you write, a color photo for a more personal touch, stationary for your recruit to write back to you, and a pre-addressed return envelope.
FAST. We use FedEx to overnight ship Letters to many basic training bases. Sandboxx
Letters submitted by 4:30pm EST Monday through Thursday arrive on base the next day.
PRE-SORTED. We pre-sort all Letters that we send to base so that it gets through the mailroom, and into your recruit's hands, faster.
How does Sandboxx work?
At Sandboxx, we employ a consistent "5-Check" process for each Letter that we send to ensure that the words you type and the pictures you take get delivered to your loved one worry-free.
Here's what you should expect the next time you use Sandboxx to send a Letter to your recruit or service member.
STEP 1: Drafting Your Letter
The Sandboxx app makes it as easy and convenient as possible to send a Letter from the palm of your hand, wherever you may be.
First, you'll want to open the Sandboxx app. Then, tap Compose Letter and begin writing your message.
If you have writer's block or just don't know what to send, read our article about what to write in your Letter to basic training. Need photo inspiration? Check out our top photos that are perfect for adding to your Letters for extra motivation.
After you confirm that your Letter order is good to go, just tap Send. Once you send your Letter, it will be processed at our printing facility the same day if your order is completed before 4:30 pm ET, Monday – Thursday.
If you're sending a Letter to one of the bases to which offer overnight shipping, you'll be able to track the status of your Letter in our mobile app as soon as you tap Send.
Once your Letter is processed and shipped out, it will typically be delivered in the next two to three days. You can learn more about our processing and shipping processes below!
STEP 2: Receiving
As soon as you send your Letter via the Sandboxx app, we verify the recipient's address and correct any potential errors.
STEPS 3 & 4: Processing and Shipping
After each Letter is printed, we then use a machine that applies over 3,000 pounds of force to fold and seal it. Then, we sort it by company for the Marines and Army, flight for the Air Force and ship for the Navy.
This marks our third check of the day, and allows us to ensure that each base is able to quickly distribute the Letters upon delivery.
STEP 5: Delivery
After we complete our last Letter print of the day at 4:30PM Eastern time, we check over the Letters to ensure each Letter is shipped to the correct destination.
Each box of 1,000 Letters is double-sealed and then dropped off at FedEx, our trusted shipping partner that makes sure these important packages arrive at each base the following day.
Please note that a Letter with the delivery status of "Delivered" does not mean that your Letter has reached your recruit's hands, but rather that your Letter has reached the mailroom on base and is waiting to be distributed to your recruit.
Sandboxx Letter Example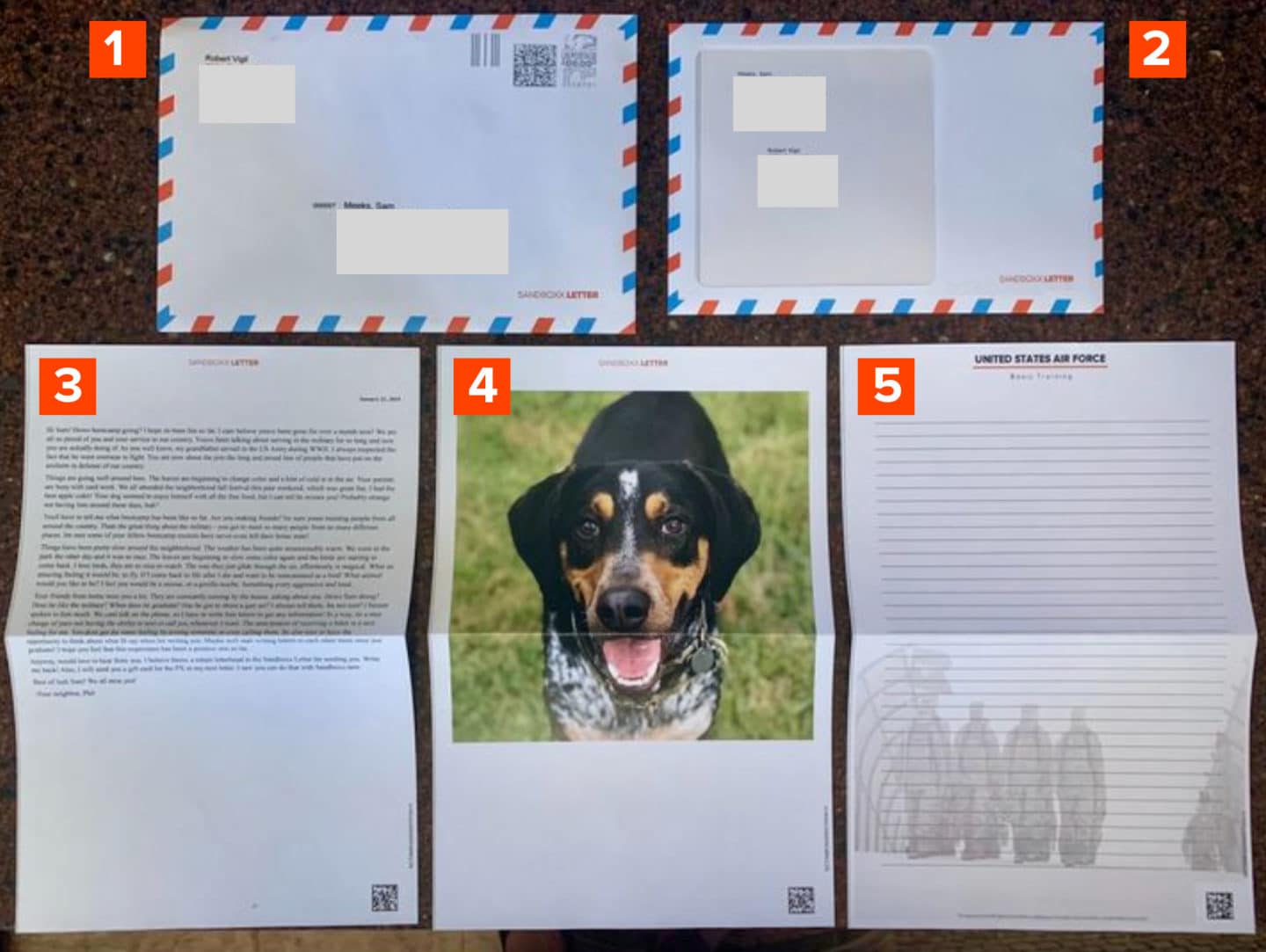 The image above shows everything that is included in each Sandboxx Letter, including:
A shipping envelope that's delivered to your recruit and carries all of the contents above.
A pre-addressed return envelope to make replying back to you easier for your recruit.
Your Sandboxx Letter copy, which includes up to 6,000 characters.
An optional photo for you to include in your Letter.
Return stationery to make it simple for your recruit to write back to you.
---
Sandboxx FAQ
Does Sandboxx cost money?
The app is free to download. Sending Letters through the app costs money, and there are discounts when you purchase bundles. This pays for the physical Letter that is delivered to your loved one, a full color photo, overnight shipping to most basic training bases, shipment tracking in our mobile app, the stationery and pre-addressed return envelope that we include for your loved one to write back quickly and the printing process.
Will my recruit need to have the app before I can send any mail to him or her?
No, your recruit does not need the app before you can send any mail to him or her. We convert the Letters that you write on our app to physical mail, and deliver them to the base's mailroom for distribution to your loved one.
Where does Sandboxx ship overnight?
MCRD Parris Island, MCRD San Diego, MCB Quantico, Camp Pendleton, AFB Lackland, CGTC Cape May, RTC Great Lakes, Fort Moore, Fort Jackson, Fort Leonard Wood, and Fort Sill.
Does Sandboxx send Letters to APO and FPO addresses?
Yes we do! You can send Sandboxx letters to overseas military addresses (APO/FPO). Those acronyms stand for Army Post Office and Fleet Post Office. Generally, overseas mail for Army and Air Force personnel go to APOs, and mail for Marine and Navy personnel go to FPOs. However, that is not a hard and fast rule, so use the APO/FPO that you have for your recipient.
Can I write Sandboxx Letters on my computer?
Yes, you can log in to our web application at our website using your existing Sandboxx account credentials to send a Sandboxx Letter from your laptop or desktop. The process is the same as it is on our mobile app!
Sending Letters to Boot Camp
Mail Call is one of the most highly anticipated times of day during basic training, and it's no mystery why. Basic training is mentally and physically draining.
Every day our rigorous process ensures thousands of letters get delivered securely to bases around the country.
In the time it takes to write a text message, you can confidently stay connected with your service member, ensuring they stay focused on the tasks ahead of them at basic training while keeping their spirits and morale high.