On Tuesday, Ukrainian defense manufacturer Ukroboronprom offered a series of bounties on stolen Russian military aviation equipment, including a payment of $1 million and citizenship to any Russian pilot who chooses to defect with their working aircraft.
This announcement comes one day after Ukraine announced the killing of a second Russian general, and the third flag officer fighting under the command of Russian President Vladimir Putin.
Ukroboronprom also offered $500,000 for a working Russian military helicopter. Seemingly aware that such a large payment might entice underpaid Russian aviators, the post went on to "guarantee the issuance of citizenship in a free country" to Russians who wish to "participate" in their program.
Last September, Ukroboronprom signed a multi-year cooperation agreement with the U.S.-based defense manufacturer Global Ordnance to aid in Ukraine's procurement of defensive hardware and munitions.
Here is a translation of their announcement, which was posted on Facebook.
"Attention! By the decision of the General Director Yuri Gusev, the Ukroboronprom DK is ready to pay bonuses for stolen combat aviation equipment of the occupiers!

1,000,000 US dollars – for a stolen or trophy aircraft in working condition.

500,000 US dollars – for a captured helicopter in working condition.

We guarantee the issuance of citizenship of a free country to Russian pilots ready to participate in the program! We ask for maximum repost!"
Related: A SEAL turned CIA officer's advice to vets volunteering to fight for Ukraine
Russia's Air Force has suffered heavy losses over Ukraine
Despite Russia's massive numerical and technological advantage over Ukraine's military, the invading force has been met with stiff opposition in the nearly two weeks since the fighting began. Notably, Russia has failed to take control over the airspace above Ukraine despite a 20-to-1 numerical advantage in combat-coded aircraft, prompting many to question just how capable Russia's air force may really be.
There have been numerous reports of Russians being captured by Ukrainian forces, including footage of more than one pilot being taken into custody. Thus far, however, there has been no evidence of Russian troops choosing to defect in any substantial numbers, but some captured Russian troops have chosen to speak out on Ukraine's behalf after being taken into custody.
According to the Kyiv Independent, a news organization operating inside of Ukraine's capital city, Russia has lost a total of 48 airplanes and an additional 80 helicopters in the conflict thus far. While numbers are tough to ascertain for sure, these figures seem to be substantiated to some extent by other open-source methods and statements from Western officials.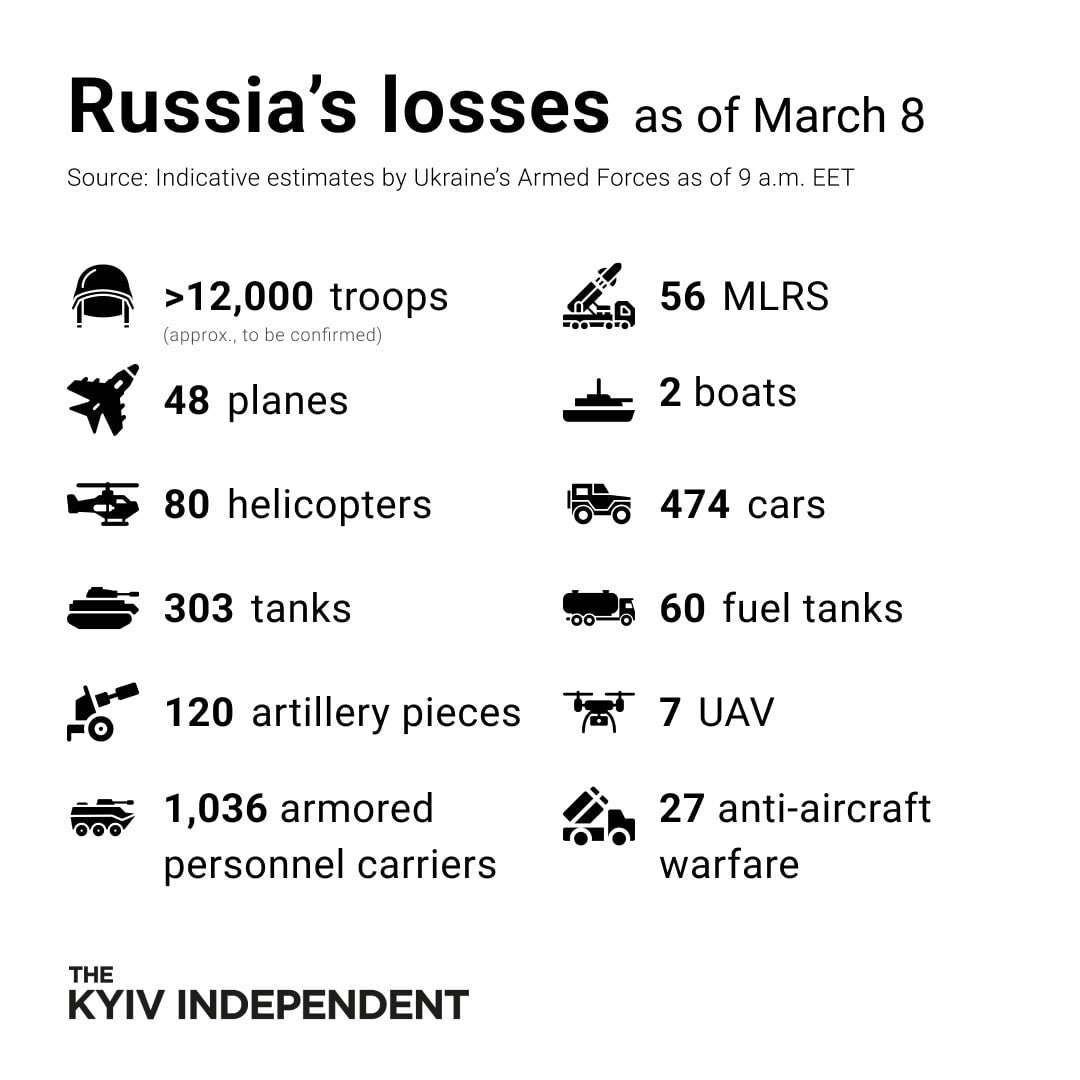 Related: Russia's focus on perception is costing them the skies over Ukraine
In fact, according to Oryx, an independent military research organization using open-source methods to try to verify Russian combat losses, Russia appears to have lost a Su-30SM Flanker, two Su-34 Fullbacks, two Su-25 Frogfoots, two Mi-24/Mi-35 Hind helicopters and two Mi-8 Hip helicopters all within a single 24-48 hour span last week.
Due to several internet outages reported around the country today, we've posted an image of Oryx's tweet that can be found here.
Ukraine has continued to fly aircraft throughout the past two weeks of fighting, but the nation's small air force has suffered significant losses, both in terms of numbers and morale. Days after fighting began, it was reported that internationally-renown Su-27 demonstration pilot Colonel Oleksandr Oksanchenko—known as the Grey Wolf—came out of retirement to defend his nation, only to be shot down and killed by Russian surface-to-air missiles. This very real loss was softened, however, by stories of a potentially mythical Ukrainian ACE MiG-29 pilot the internet has dubbed the Ghost of Kyiv.
On Tuesday, Poland announced that they were prepared to transfer the entirety of their MiG-29 fleet to the United States, seemingly to be given to Ukraine thereafter, but as this story was published, the U.S. had yet to comment publicly on the matter.
Read more from Sandboxx News