Editor's Note: The following Op-Ed offering advice to American veterans considering volunteering to fight for Ukraine was penned by a former Navy SEAL turned CIA officer who writes for us under the penname Frumentarius. This advice is meant for those seriously considering the option, but neither Frumentarius nor the Sandboxx Editorial team encourage veterans to do so. It is a personal decision with potentially deadly implications that should be weighed realistically and individually.
As we neared the end of the first week of fighting after Russia's military invasion of Ukraine, Russian forces looked to be slowly but nevertheless determinedly encircling Ukraine's main cities, setting the stage for a possible prolonged series of siege operations across the beleaguered country.
Concerned citizens of the West—and beyond—have expressed outrage at the invasion, with some calling on social media for the establishment of No-Fly Zones over Ukraine, and/or the deployment of NATO ground forces into the country. Various European countries, additionally, as well as the United States, have been delivering lethal aid to the Ukrainians, in the form of shoulder-fired anti-tank and surface-to-air missiles, air defense rockets, small arms, and artillery rounds.
On various social media platforms in the United States, posts have begun to show up depicting Americans traveling or intending to travel to Ukraine to take up arms to defend the country against Russia. This concept is also being embraced by the Ukrainian government, as on February 28, 2022, Ukrainian President Volodymyr Zelensky announced the formation of the International Legion of Territorial Defense of Ukraine, to be made up of foreigners who want to volunteer to take part in the war effort against the Russian invasion.
Related: What foreign volunteers need to know to fight for Ukraine
The British Foreign Secretary went so far as to state to the BBC that she supported Britons going to fight for Ukraine against the Russians. No such proclamation has been made by any high-ranking American officials to date, but that will likely not prevent some Americans from going to fight. The question is, should you? And if you do go, how should you go about it?
In answer to the first question, that is for you and your family to decide, after sober reflection on what it means, and could mean—should the worst happen. Everyone must make that choice on their own, and this author understands the urge to go, as well as the reluctance. It is inarguable that the Ukrainians need the help. As far as the "how" to go about it, Military Times editor Howard Altman wrote an article recently addressing that issue, with step-by-step instructions provided by a Ukrainian government official on how to apply.
I would add to Mr. Altman's article some additional guidance, which will hopefully assist any volunteer contemplating going to both most effectively help the Ukrainian forces, and to keep yourself safe in the journey and follow-on operations.
Related: Europeans to send Ukraine fighter jets. Here's what we know
Notify the State Department
First, if it were me going, I would inform the U.S. Department of State of my intentions. It is not that you would be asking their permission to go, so much as making them aware that you (an American citizen) will be there fighting.
The State Department will likely try to dissuade you from going, and that is fine, just simply be polite and say you will consider their counsel, and carry on. Just make sure they know that you are informing them so that in case you need help later, they can verify who you are. That speeds things up quite a bit. Also, let them know who your contact is in Ukraine, and/or what Ukrainian military unit you will be serving with. This again might help you if you need assistance down the road.
Related: Famed Ukrainian fighter pilot 'Grey Wolf' killed over Kyiv
This isn't about you
Secondly, if you are determined to go, be professional, responsible, and realistic in your expectations. Follow the Ukrainian government's advice about how to officially register, and do not go there telling them where and how you want to participate in the fighting.
They will place you in whatever capacity they need you, and wherever they need you most. You are not Rambo, there to single-handedly slay Russians and post your selfies. You will be part of a military machine that is under extreme stress, and you need to seamlessly integrate into that system to be an effective part of it. 
Now, if you do not take the official Ukrainian-provided route via registering with the Ukrainian embassy, and you choose to go in on your own, then you are exposing yourself to much more risk and need to therefore exercise much more caution. I do not advise you take this route unless you have significant training and/or experience in working with foreign governments and militaries, intelligence liaison work, or on-the-ground covert action. 
Related: 5-Minute Summary: What's going on in Ukraine?
Have a plan
That warning notwithstanding, if you do go that route and fly yourself into Poland, for example, with the idea of crossing the border with Ukraine into Lviv, then making your way to the front, you will need to have a plan.
You need to pack up your own gear and clothing for the duration, make your way to the border, and link up with the right Ukrainians. Preferably, you will have arranged this before arriving. This will ensure you have someone guiding you into the country who speaks the language and knows the territory. They are also preferably military or intelligence trained and can get you to the front safely, through Russian lines, and without being killed by either enemy or friendly fire. 
Related: On the sharp edge of empire: Russia, Ukraine, and the world
You likely won't be able to bring weapons
Furthermore, it is unlikely (though not impossible) that you will get your own weapons into Europe, so you will also need the contact to supply you with a weapon, preferably with whatever the Ukrainian forces are using. This is to both blend in and also to ensure adequate supplies of ammunition are available.
If it were me, I would want that weapon the moment I departed Lviv to head to the fighting, as well as a Ukrainian uniform. The key is to blend in and not draw attention to yourself from Russian forces.
Related: The origin of America's security obligations to Ukraine
Be humble and respect Ukrainian authority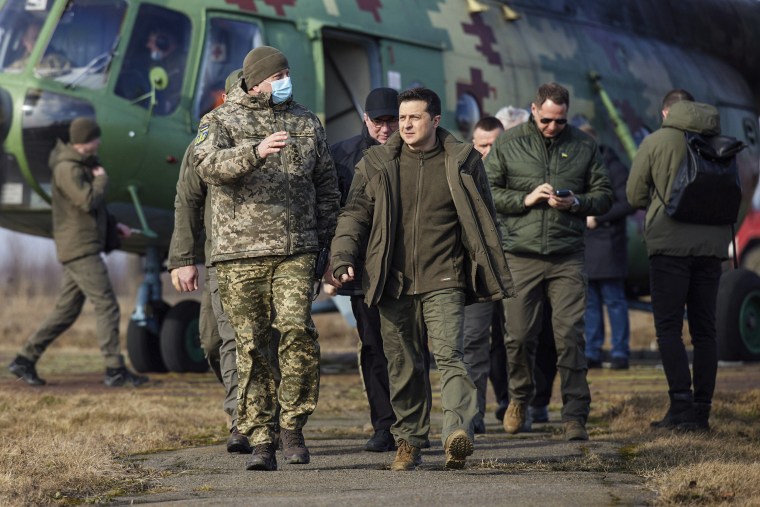 When you arrive in your assigned theatre of operations, either with an official Ukrainian escort, or after you have made your own way in, it is very important that you do what the Ukrainians need you to do, and fall under their operational control. If they need you to work supply lines, then do it. If they need you to help with combat medicine, then do it. If they need you to carry a Javelin and target Russian armor, then do it.
Do not go there with the idea that you are an independent operator, seeking glory and to kill Russians. You should be going there to defend Ukraine, to help the Ukrainians, and yes, in service of that goal, to possibly kill Russians. Stay humble and level-headed. Take the Ukrainian lead on what they need from you. You are a volunteer, in their country, helping in their war. Act like it. That all said, fight like hell and make America proud.
Related: The Fall of Crimea: One Ukrainian Marine's story
Rely on your training
Finally, it would be irresponsible of me not to raise this point: if you are captured by the Russians, and you have SERE training, or some other POW training, remember it and use it. If you do not have such training, I suggest you study up online before you go, and see what is expected of captured Americans.
You can also follow the lead of someone who does have the training if they happen to be captured with you. Keep in mind that you may be treated as an illegal combatant, and the Russians will likely hold you as a pawn, to be exploited and made into a propaganda tool. Do not dishonor yourself or the country, and hold tight until we can get you out.
God speed if you choose to go, and God be with Ukraine.
Read more from Sandboxx News