Glock is one of the most successful firearm brands in history. It emerged in the 1980s with the first successful polymer frame, a striker-fired pistol, which has since become the duty sidearm of police and military forces worldwide. Glock has always been known for its pistols because, well, that's all they make. Until now, as, in October, a Glock rifle seemingly emerged known as the GR-115F. It seems that Glock has entered the rifle market. 
The news broke from British Youtuber Sean Odinson, and I first saw the rifle on a German website covering special operations news from around the world.
(It should be noted that Glock filed a patent for a carbine-type rifle, but the GR-115F is not that rifle. The GR-115F is an AR-15 design stamped by Glock.)
Why does the GR-115F exist? 
The leak of the Glock rifle came because the British were testing the platform. They are testing the GR-115F alongside entries from premier rifle companies like Knights Armament and Lewis Machine and Tool. Glock is a handgun company, so why exactly would they be interested in pursuing a rifle contract? 
Well, money, obviously. However, the story is currently that the British specifically contracted Glock to produce a rifle. It bears mentioning that Glock currently provides the Glock 17 to British forces, and there is something to be said for logistical convenience as a total systems provider makes life much easier. Sourcing rifles and handguns from the same company can be an effective way to do things. 
The British military is looking to equip some of its more elite forces, specifically its new Ranger regiment, with AR-type rifles. This is because the SA-80 family of rifles has been a disaster for Britain, and the AR-15 is considerably more successful. Further, special operations communities often work with foreign forces, and the use of AR-type rifles by other special forces around the world makes it sense to use a more common platform. 
Related: Is the US military too weak or too woke? Not a chance
Looking at the GR-115F in detail 
We haven't been able to see the guts of the rifle, so we don't exactly know what makes it tick: It could be a short-stroke gas piston system like the HK 416 or it could be your standard direct impingement AR-15, like the M4 and M16 series. Regardless of what the insides say, its exterior shows that the GR-115F is a very modern example of the AR-rifle series. 
On the outside of the GR-115F, we have completely ambidextrous controls including magazine releases, slide releases, safety, and all that fun stuff that make the rifle more ergonomic. The controls look large and easy to access. The rifle features an M-LOK handguard that looks similar to a design by Haenel, a German rifle company. 
We have a Magpul stock, Magpul pistol grip, as well as Magpul sights. The barrel appears to be short, potentially between 10.3 and 12.5 inches (although I admittedly suck at measuring distance by mere eyesight.) The GR-115F wears a suppressor as well as some form of LPVO. On top of the LPVO sits an Aimpoint Acro red-dot sight.
This is a very modern rifle with some very expensive components. The GR-115F certainly looks like a special operations rifle. It would be at home with any special operations commando. 
Related: How to get through Special Forces selection? Don't be the 'Grey Man'
Sorry, folks, it's not for the civilian market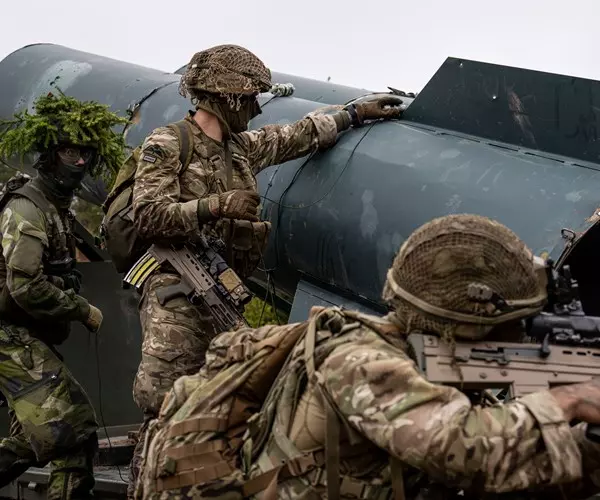 Glock took its time, but it has publicly admitted it is, in fact, real. It was created only for this military trial, and commercial sales are not on the horizon. 
The GR-115F is a big change for Glock but not a huge development in the world of small arms.
It could be a very high-quality AR design, but it admittedly enters a very crowded market.
I'd be interested in more details about the competition. Who doesn't want to know if Glock's rifle runs as well as its pistols? 
Read more from Sandboxx News