Marine Corps beach-storming missions in the Pacific during World War II remain an indelible part of the Corps' amphibious identity. But it's possible the service's next beach-storming op will involve a swarm of smart robots, rather than ground troops fighting off seasickness.
Language in documents released as part of the Defense Department's fiscal 2024 budget request reveals that the Marine Corps and Navy are continuing to work on a highly secret effort to develop amphibious swarming drones – and they want to make them smarter and more capable. Called Unmanned Swarming Amphibious Assault Craft, or USAAC, these drone systems have been a concept since at least 2016, according to publicly available slide presentations, reporting, and solicitations from the Office of Naval Research (ONR), which is heading up development of the systems. A 2018 solicitation describes these craft as Quadskis, an amphibious car-style vehicle with retractable wheels, a little larger than a jet ski, that was built by the Michigan-based Gibbs Sports from 2013 to 2016.
"The ONR USAAC/MARS project has a fleet of 13 amphibious Quadski vehicles that are being used to develop an amphibious autonomy capability for the United States Marine Corps," the solicitation states.
"MARS" stands for Modeling, Analysis, Research and Simulation.
Another 2018 document published by the Defense Department's Innovation Marketplace confirms that this was at least the initial plan for these swarming beach-stormers.
Related: The Army is getting the world's largest metal 3D printer. Here's what it will print
"[Naval Information Warfare Center Pacific] is continuing development of the amphibious autonomy capability utilizing the Gibbs Quadski surrogate platforms," the document states. "[The center] has demonstrated the baseline ground autonomy functioning properly on the quadski and has demonstrated basic onwater vehicle maneuver capability with the same architecture. A preliminary perception and inertial sensor data collection has been performed in the surfzone with 2-3' surf and that data is being analyzed. SSC PAC has drafted an initial strawman autonomy architecture for the USAAC/MARS program as a starting point when the contractors come on board," it adds.
A January 2018 solicitation calls for a company to provide this surf zone simulation to prove the ruggedness and functionality of the USAAC.
However, after 2019, any information about USAAC becomes scarce.
ONR declined to answer Sandboxx News' queries about USAAC, citing the sensitivity of the program. But research and development budgeting plans released by the Navy this spring show that investment in USAAC continues, and the service is now working to build autonomy into the systems.
Under the heading of "Marine Corps Landing Tech," the documents highlight research "that will focus on intelligent mobility technologies to enable greater capability in harsh off road and littoral environments, with efforts including predictive and adaptive mobility testing and demonstration." Action items include development of inexpensive autonomy kits for the Corps' amphibious vehicles, and research into sensors and behaviors to enable autonomy.
The documents contain funding for the initiation of research to "design and develop autonomy capability" for USAAC and the Mobile All-Domain Observation and Sensing System (MA-DOSS), a family of surveillance systems that includes small unmanned amphibious systems. In all, the Navy plans to spend some $8.6 million on these efforts in the coming year.
Under the heading of "Marine Corps Advances Technology Demonstration," the service also cites plans to "initiate integration and field testing" of artificial intelligence-enabled autonomy command and control into USAAC, an effort that appears to support the development of self-contained swarms that can communicate with each other and perhaps take commands from a central command vehicle.
Related: MQ-9B STOL: A new Reaper cousin could help Marines win the Pacific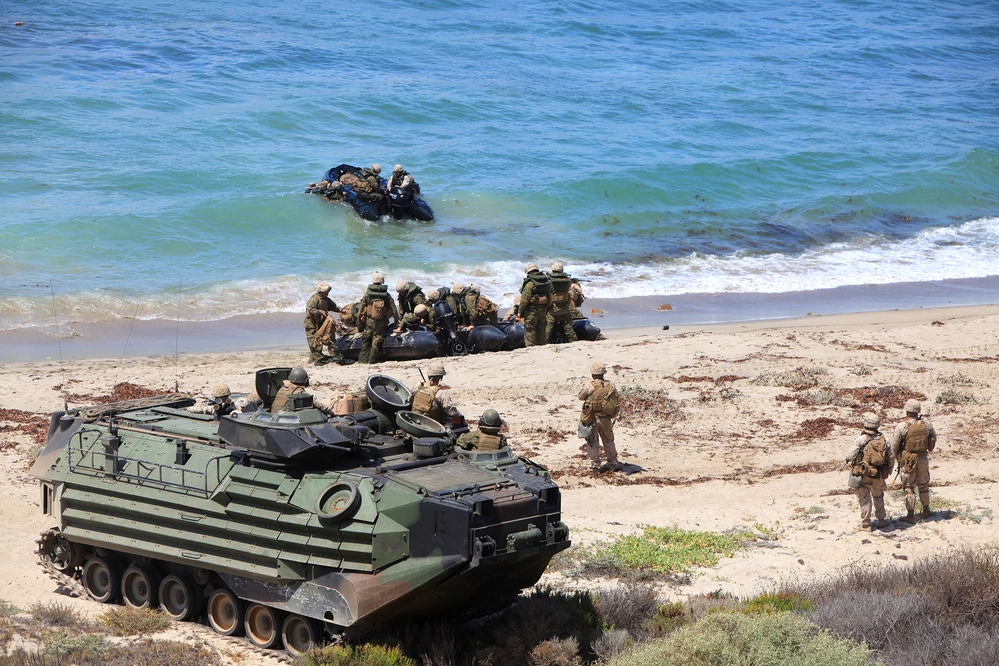 In 2016, At a conference for unmanned technologies, then-commander of Marine Corps Combat Development Command Lt. Gen. Robert Walsh described the service's vision for future beach-swarming drones.
"Instead of Marines being the first wave in, it'll be unmanned robotics … sensing, locating and maybe killing out front of those Marines," he said. "We see that 'swarm-type' technology as exactly the type of thing – it will lower cost, dominate the battlespace, leverage capabilities … and be able to complicate the problems for the enemy."
The concept addresses a confounding problem when it comes to modern amphibious assault operations: anti-access/area denial (A2/AD) technology is likely to confound a beach-storming operation entirely, or take a massive toll on human life and military equipment. Many critics have said it's unlikely that the Marines will ever assault a beach again in combat operations, despite their continued training toward that objective and investment in the Amphibious Combat Vehicle, a wheeled replacement to the Assault Amphibious Vehicle designed for just such a purpose.
Related: Navy launches new drone from one of its strangest ships
The USAAC concept reduces the potential human cost of an amphibious assault by putting unmanned systems out in front, either ahead of a human contingent or instead of one, as the swarming component may overwhelm enemy defenses or draw their fire.
In a 2020 opinion piece in the U.S. Naval Institute magazine Proceedings, retired Major General Nozomu Yoshitomi of the Japan Ground Self-Defense Force explains why a swarming amphibious assault capability might be especially useful in countering Chinese aggression around Japan's Southwest Islands. His proposal: relatively low-cost "fast multirole craft," or FMCs.
"Swarms of small craft can minimize the threat from anti-ship missiles and challenge defenders with decentralized landing," he wrote. "… Swarms of FMCs would be more robust and flexible than undertaking traditional amphibious assault with large vessels," Yoshitomi added.
Feature Image: KIN BLUE, Okinawa, Japan (Feb. 9, 2020) Combat rubber raiding craft with Marines with Charlie Company, 1st Battalion, 5th Marines, 31st Marine Expeditionary Unit (MEU), and service members with Amphibious Rapid Deployment Brigade, Japan Self-Defense Force, conduct a full mission profile bilateral small-boat raid. (U.S. Marine Corps photo by Lance Cpl. Kenny Nunez Bigay)
Read more from Sandboxx News