On Monday, America's Special Operations Command announced the selection of L3Harris Technologies' AT-802U Sky Warden to provide elite warfighters with armed overwatch over austere locations not served by America's more advanced combat aircraft. The Sky Warden's job may keep it far from the highly-contested airspace of the Pacific, but the aircraft may still prove extremely valuable in countering the expansion of Chinese influence in the developing world.
While not the first propeller-driven attack aircraft of the modern era to be purchased by the U.S., the Sky Warden deal is easily the largest in decades. In 2013, the U.S. Air Force purchased 20 Embraer A-29 Super Tucano light attack planes to equip the Afghan Air Force, for instance. The Sky Warden deal, however, will provide at least 75 prop-driven platforms to U.S. Special Operations Command (SOCOM) to serve in air support, armed reconnaissance and strike roles.
"An important part of our Trusted Disruptor strategy is listening closely to combatant commanders' needs, and responding faster than the evolving threats," said Christopher E. Kubasik, Chair and Chief Executive Officer of L3Harris.

"We want to deliver game-changing, modular solutions to U.S. special operators for their hardest missions, and Sky Warden does just that."
Related: SOCOM's Armed Overwatch Program looks like a blast from the past
Why the US opted for a "blast from the past" attack aircraft
While the United States military has largely shifted its focus away from the Global War on Terror and back toward deterring near-peer competitors like China and Russia, American troops continue to support counter-extremist operations and partner forces the world over. These operations often take place in austere environments well removed from American air bases and the infrastructure required to support many of America's more advanced aircraft.
"Armed Overwatch answers a critical need for U.S. Special Operations Command to conduct a wide range of operations globally in support of the National Defense Strategy," SOCOM Commander Gen. Richard D. Clarke said in a release.

"This rugged, sustainable platform will operate in permissive environments and austere conditions around the world to safeguard our Special Operations Forces on the ground."
And that's where the AT-802U Sky Warden comes in. This low-cost platform is capable of taking off and landing on austere airstrips and flying with minimal logistical support. And while the aircraft may look like it was ripped right out of the skies of World War II, it actually packs a pretty sophisticated punch.
According to L3 Harris, the AT-802U Sky Warden offers a "robust suite of radios and datalinks" to provide multiple means of line-of-sight and beyond-line-of-sight communications, as well as the ability to carry a variety of specialized sensors, including Electro-Optical/Infra-Red and Intelligence, Surveillance, and Reconnaissance (ISR) suites, making it well suited to support special operators in the field.
"I want a CAS platform that can recognize what's going on and be thinking a few steps ahead…[Also] they need to have the right weapons. Usually, this means an array of weapons," Zach Asmus, a former Air Force Combat Controller told Sandboxx News in a recent interview.
Combine that with a claimed 6-hour loiter time within a 200 nautical mile combat radius and the ability to carry 6,000 pounds of munitions or sensors and the Sky Warden becomes a potent air support platform without the exorbitant operating costs that are par for the course with many of America's high-speed jets.
"Loiter time is also big. Sensors also don't get talked about enough but the ability to have an aircraft with advanced sensors that can alert you of anything nefarious well before it gets to you is priceless," Asmus added.
The Sky Warden deal comes with an initial contract award of $170 million with a program ceiling set at $3 billion, with the aim of reaching initial operating capability (IOC) in 2026 and then full operating capability in 2029.
Related: Special Operators sound off about SOCOM's Armed Overwatch program
The Sky Warden may not be survivable in contested airspace, but it can still help counter China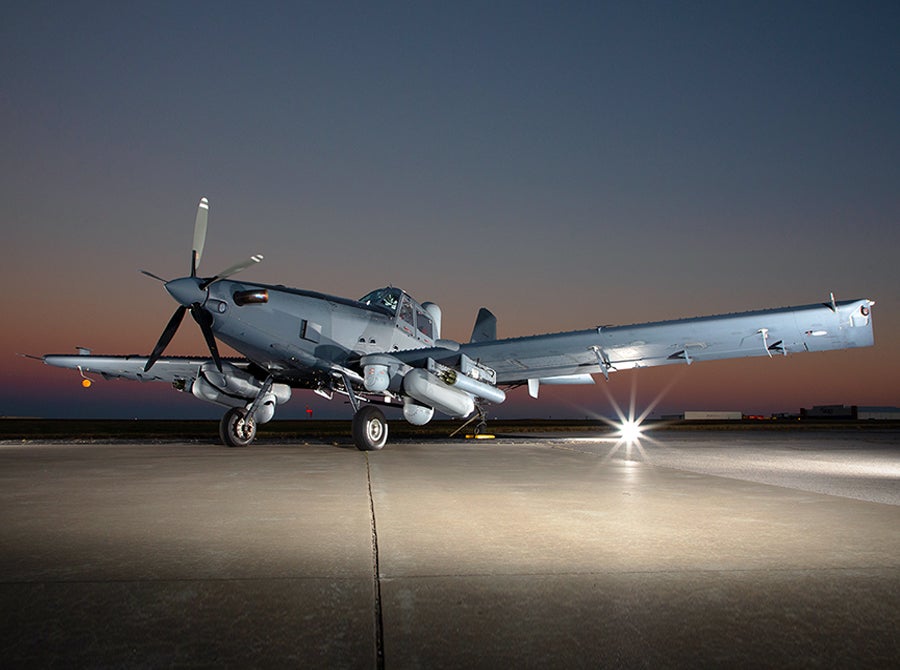 China's rapid military expansion in recent years, coupled with efforts to enforce illegal claims of sovereignty over the entirety of the South China Sea, make China the most potent threat to American interests abroad since the fall of the Soviet Union. And based on China's well-publicized "2050" plan to replace the United States as the dominant global power within the coming decades, it seems likely tensions will continue to rise between these two powers.
But this competition is less likely to manifest in open war between powers than in indirect military competition elsewhere around the world, at least for some time to come. The doctrine of Mutually Assured Destruction (MAD) that made direct conflict between the U.S. and Soviet Union so difficult to stomach in decades past remains just as relevant today regarding a Sino-American war. But even short of a nuclear exchange, a war between the U.S. and China could have practically nuclear implications for the world's economy, as the competing states represent nearly an estimated combined 40% of the world's annual economic output. As a result, it seems likely that the world will see a return to proxy conflicts in the developing world.
During the Cold War, the United States and Soviet Union turned to partner nations and proxy forces, expanding influence and strategic leverage around the globe through overt diplomacy and covert military action and assistance. This competition will almost certainly occur in underdeveloped regions of the world in geographically valuable locations, or that boast an untapped supply of important resources: namely, Africa and the Middle East.
But while America and its allies have been accumulating operational experience in these theaters, China hasn't been sleeping. Despite China largely staying out of the Global War on Terror, it has been expanding its influence in these same regions via economic and infrastructure programs, including providing massive loans to developing nations that many suspect won't be able to pay China back. China, it seems, would prefer they didn't anyway–as the leverage defaulted loans would offer is more strategically valuable than paying interest on a loan could be.
"Right now you could say that any big project in African cities that is higher than three floors or roads that are longer than three kilometers are most likely being built and engineered by the Chinese. It is ubiquitous," explained Daan Rogeveen, an author and expert on urbanization in China and Africa.
In these developing regions, American special operations troops will often be serving in advisory roles while occasionally fighting alongside their local partners, not unlike we've seen in Syria in recent years. And just as we've seen in Syria, air support in these permissive environments is essential for the success of combat operations.
So, while the Sky Warden may not be the right aircraft to counter China over the Pacific, it will almost certainly play a role in countering Chinese influence by supporting special operations troops working alongside partner forces in ongoing counter-terror operations in the same or similar areas. It's feasible that these small conflicts could eventually lead to competition between American and Chinese-backed groups, where the Sky Warden's ISR capabilities, if not it's strike skill set, could be invaluable.
If the Sky Warden proves highly effective at its newfound role, the hum of its single spinning propeller as it approaches could become a vivid and meaningful representation of American support for partner forces in these regions. And as far as the Sky Marshall may be able to fly, the value of that perception could fly even further.
Related: Move over stealth. America needs faster jets to beat China
How capable will SOCOM's Sky Warden really be?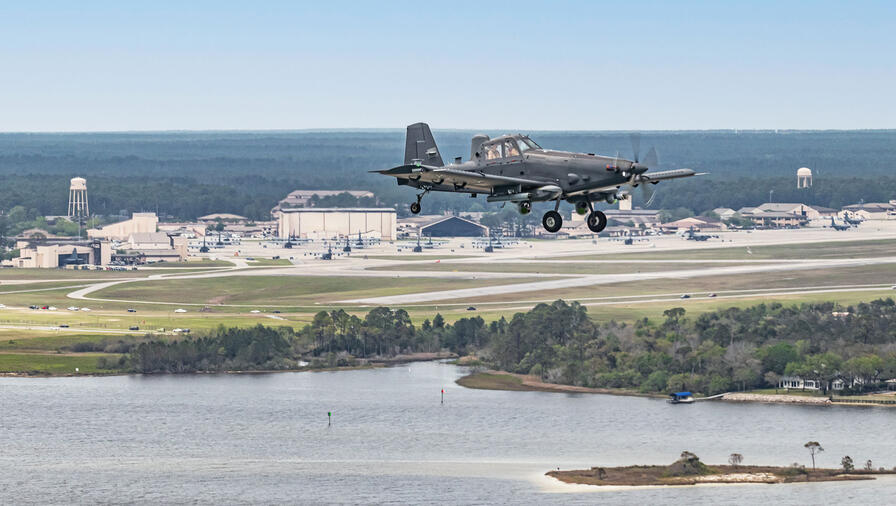 The AT-802U Sky Warden may lack the speed of an F-15E Strike Eagle or the stealth capabilities of an F-35 Joint Strike Fighter, but it's not meant to fight in the same sort of conflicts these high-dollar platforms operate in. Instead, the Sky Warden is all about operating in austere environments with minimal infrastructure, while providing essential support for special operators in the field.
"The idea of the Armed Overwatch platform is [that] it's a modular capability and so you can outfit the aircraft with a robust suite of sensors that will exceed what is available with most dedicated ISR platforms today. Or you can outfit the platform with a robust suite of precision munitions," Air Force Special Operations Command Lt. Gen. James C. "Jim" Slife told lawmakers in April.
Importantly, it will replace the Air Force's existing fleet of 28 U-28 Draco ISR aircraft, which are expensive to operate and offer no strike capabilities.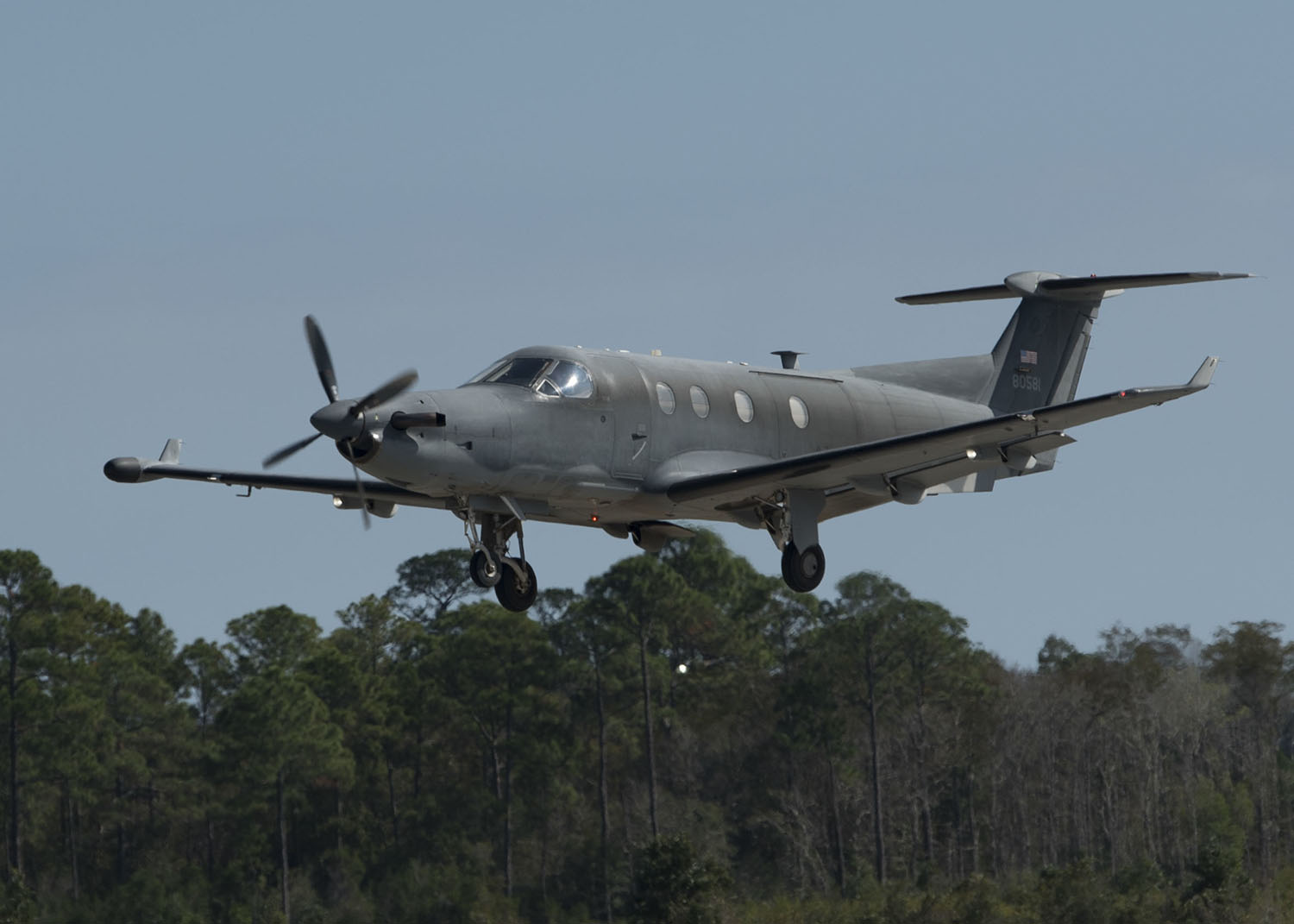 The AT-802U Sky Warden itself is a fairly new development, first unveiled just last May, but the aircraft that it's based on, Air Tractor's AT-802 agricultural aircraft, has a three-decade spanning history of service in a wide variety of roles.
The AT-802 saw use with the U.S. State Department, spraying herbicides on drug fields in Central and South America as well as in the Caribbean. Other modified and sometimes armed AT-802s have seen service for the United Arab Emirates, the Royal Jordanian Air Force (RJAF), and others over the years. Thanks to the aircraft's existing production line, the Sky Warden boasts both a low initial procurement cost and a short turnaround time for new orders. In fact, L3 Harris, who partnered with Air Tractor for this contract, claims they can begin deliveries in just 12 months.
The exact weapon and ISR capabilities the new Sky Warden will deliver to SOCOM are yet to be confirmed, as the aircraft will now be "rapidly" modified to its new production configuration for testing — expected to take about six months. It seems very likely, however, that SOCOM's Sky Warden fleet will come with a variety of possible sensors and armaments meant to be rapidly swapped out for different mission requirements or operational environments.
"It really depends on the mission, and so clearly, the Armed Overwatch platform is not a panacea for every tactical situation that a ground force might find themselves in. But for what we envision the enduring counter-[violent extremist organization] mission looking like, we think it's a prudent investment," General Slife testified before Congress.
Read more from Sandboxx News