Throughout history, quite a few names have made history books — a few of those names are military dogs. 
From the beginning of war times, dogs have accompanied their companions into battle. Since the 1800s, the military has used the sharp senses of dogs to achieve objectives. Not only have military working dogs provided a sense of comfort to troops, but they've provided critical support to missions.
Stubby the "war dog" may be the most famous, but plenty of other pooches have held their own when it comes to making history.
Plus, these military dogs were as adorable as they were fierce. From attacking enemies to barking alerts to U.S. troops, these pups didn't back down for anything. And now, thanks to a bill passed called "Robby's Law" handlers and the public can adopt these war heroes once they've retired from service.
Ready to learn about the most prolific pooches in military history?
Here are five military dog names you won't soon forget.
Lucca
The Top Dog
RELATED: MILITARY WORKING DOGS: 9 FUN FACTS YOU DIDN'T KNOW
A German shepherd named Lucca worked missions with the U.S. Marine Corps for six years under handler Staff Sgt. Chris Willingham. Her job included detecting explosives during her two tours to Iraq and Afghanistan.
Under her watchful eyes and keen nose, she led more than 400 missions where she uncovered explosives, insurgents, and ammunition.
During Lucca's final mission on March 23, 2012, an IED blew up beneath her. While she survived, she underwent surgery and lost her front leg. She retired and went to live with Staff Sgt. Willingham and his family.
In 2016, Lucca was honored for her hard work by The People's Dispensary for Sick Animals (PDSA). She received the Dickin Medal, the animal equivalent of the Victoria Cross.
The story of Lucca's life has been turned into a book, "Top Dog: The Story of Marine Hero Lucca" by Maria Goodavage.
Lucca died in January 2018.
Chips
The Most Decorated WWII Dog
RELATED: THE DOGS OF WAR: HOW MAN'S BEST FRIEND SERVES IN THE MILITARY
During World War II, individuals wanted to help any way they could with the war effort. For some who couldn't fight, sending their animal to assist with war efforts was the best they could do.
Among them, a German Shepherd-Collie-Siberian Husky named Chips reported for Army duty.
Reports from U.S. soldiers indicated the bold pooch tore into an Italian machine-gun nest, where he attacked an enemy soldier by the throat and pulled the gun from the mount.
After his return to the U.S., he received the Silver Star, Purple Heart, and the Distinguished Service Cross. The Silver Star was revoked after the public became outraged that an animal could receive the same honor as a human.
After returning home a war hero in 1942, Chips died the following year. But 75 years after his death, he was honored yet again with the Dickin Medal, the highest honor for animals that exhibit wartime bravery.
Disney, of course, had to create a story about the heroic dog. In 1990, the entertainment conglomerate released Chips, the War Dog.
Smoky
The First Unofficial Therapy Dog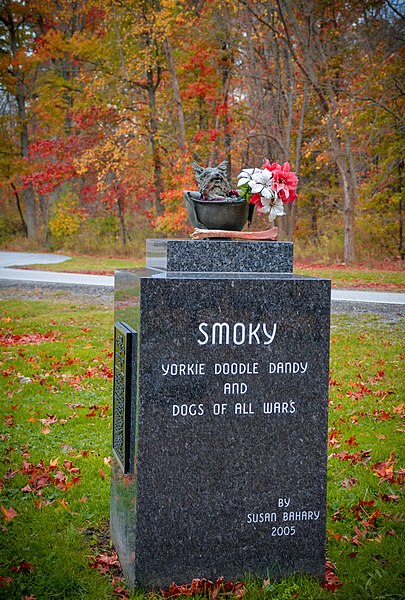 A four-pound Yorkshire Terrier Yorkie discovered in the New Guinea jungle during WWII made her way to Corporal William "Bill" A. Wynne, an air-crewman in photo-reconnaissance.
Despite not being an official military dog, Wynne found a way to sneak Smoky around. He shared his C-rations with her and she slept on a blanket in his tent. Her efforts proved critical to saving his life and comforting others.
Smoky saved Wynne's life by barking and alerting him to an incoming kamikaze attack. Because of this, he nicknamed her the "angel from a foxhole."
This tiny terrier flew with comrades on 12 combat missions while Wynne was stationed on Biak Island. She survived 150 air raids in New Guinea and a typhoon in Okinawa.
Despite her conditions being often uncomfortable or difficult — she dealt with long periods of time hanging in a harness in planes, no actual dog food, and tough terrain —she never became ill or suffered foot problems like some of the other war dogs did.
Not only did she entertain the troops on a regular basis, she also took part in an important communications mission. During the war, American commanders needed telephone lines run through a pipe that stretched over a 70-foot area.
At eight inches in diameter — the lines could only be threaded by hand and would have taken days — it was a dangerous job that left them exposed to the enemy. Smoky, though, got the job done after taking the lines through the hole to the other end.
She also served as a therapy support dog when Wynne came down with dengue fever. After a few days in the hospital, Wynne's friends brought Smoky by to see him. The nurses brought her around to visit with other wounded patients. At night, Smoky would sleep in Wynne's bed before making her rounds in the morning to visit and cheer up other patients.
For her efforts, Smoky was awarded eight battle stars.
Post-war, Smoky enjoyed an entertainment career. She and Wynne appeared on 42 television shows and toured the world performing. They also visited veteran hospitals to lift spirits.
"Corporal" Smoky died in Feb. 1957.

On Veterans Day in 2005, a bronze life-sized sculpture of Smoky sitting in a GI helmet was unveiled. Created by Susan Bahary, the sculpture is also the area of Smoky's gravesite.
Sergeant Stubby
First Dog to Earn Rank in the Army
A short brindle bull terrier mutt called Stubby served as the mascot of the 102nd Infantry Regiment. His assignment? A critical member of the 26th (Yankee) Division in WWI.
For a full 18 months, he served in 17 battles as the unofficial mascot of the 102nd Infantry Regiment. Multiple times, he saved soldiers from mustard gas attacks and comforted the wounded.
During one of his most famous war moves, Stubby caught a German soldier in action.
The solider called for the dog, but instead of going in for belly rubs, Stubby began to bark. The German ran, but not before Stubby caught up to him and bit his leg. The bite caused the soldier to trip and fall. Stubby held the soldier in place until U.S. soldiers arrived. For his efforts, Stubby was promoted to the rank of Sergeant by the 102nd Infantry's commander.
His efforts weren't always safe, however. Later, Stubby got hit by shrapnel in his leg and chest during a grenade attack.
Yet he survived the war and came out the other side a celebrity.
He met three U.S. presidents and even has a commemorative brick in the Walk of Honor at the Liberty Memorial in Kansas City. Stubby is also the subject of countless books and even has a life-sized bronze statue displayed in his honor titled "Stubby Salutes" in the Connecticut Trees of Honor Memorial at Veteran's Memorial Park in Middletown, Connecticut.
An animated film released in 2018 titled "Sgt. Stubby: An American Hero" detailing Stubby's life. Although it received good reviews, high profile endorsements, and several awards, it released the same weekend as Avengers: Infinity War.
Stubby is considered the most decorated war dog of WWI.
He died in 1926.
Sallie Ann Jarrett
The Most Loyal War Companion
Perhaps one of the earliest mentions of military dog names in history is that of Sallie Ann Jarrett.
Sallie was the mascot of the 11th Pennsylvania Infantry during the American Civil War.
According to the book "Tails from the Afterlife," the brindle pit bull terrier was gifted to Capt. William R. Terry of Company I in May of 1861. On a regular basis, the pup joined soldiers for drills and dress parades.
She marched twice with President Abraham Lincoln.
Sallie fought on the front lines, barking furiously at the enemy in each of her regiment's engagements: including Cedar Mountain, Bull Run, Antietam, Fredericksburg, Chancellorsville, and Gettysburg.
During fighting at Gettysburg, Sallie separated from the regiment during the Union retreat to Cemetery Hill. Soldiers feared her demise. Instead, soldiers found her guarding wounded and dead soldiers for days.
She died in action on February 1865 at Hatcher's Run.
Year-round visitors to the 11th Pennsylvania Infantry Monument in Gettysburg Pennsylvania often leave dog biscuits at the life-sized statue of Sallie. She sits at the base of a pedestal memorial, clearly guarding the soldier on the lookout up top.
Military Dog Names Should Be Remembered, Too
Military working dogs are just as much a part of the service as humans these days.
Some of the military's toughest missions have been successful thanks to a combo of human and canine intelligence. One military working dog in particular named Cairo impressed Navy SEALs with his love of flying and the ability to deploy with the nation's most elite forces.
Like the other military working dogs listed above, he's had numerous press coverage and books written about him.
From sniffing out bombs to alerting handlers to enemy hideouts, military working dogs consistently showcase intelligence, resilience, and reliability — much like our best troops.
Around the U.S. at various memorial sites, you can pay your respects to military working dogs and their soldiers. If you're a dog lover, you can also adopt a service dog after retirement or even become a Military Working Dog Handler.
Read more from Sandboxx News:
Are you a Military Working Dog handler? If so, who is your favorite canine hero to ever serve? Share in the comments below!
Feature image: U.S. Air Force photo by Cynthia Griggs
This article was originally published 8/30/2020