Despite the Army's primary focus on land, leveraging the maritime domain in the Indo-Pacific can still have lasting effects, the deputy commander of U.S. Army Pacific said last week.
Maritime operations can range from high-end military conflict to protecting sovereign territories from economic incursion, said Maj. Gen. Jonathan P. Braga.
"The maritime domain awareness challenge is something the Army and the land components need to address seriously for the collective group of individual nations, armies and the land components," he added.
Braga was among military leaders who took part in the virtual Indo-Pacific Landpower Conference from May 18-19. During the event, 22 militaries joined Army leaders, representatives from the U.S. Indo-Pacific Command, and academia partners during a series of discussions on the challenges of maintaining a free and open Indo-Pacific.
One discussion revolved around the Army's role in helping allies and partners take on other missions that fall into a broad area called the gray zone.
In today's world, nontraditional security threats, particularly in areas like cyber and climate change, have become more common. Known as the gray zone, these situations do not come with clear threats and are generally handled by nonmilitary individuals.
The Indo-Pacific region has some of the most impacted nations by extreme weather, rising sea levels and ocean warming acidification, said retired Brig. Gen. James Hirai, Asia-Pacific Center for Security Studies deputy director, who also moderated the discussion.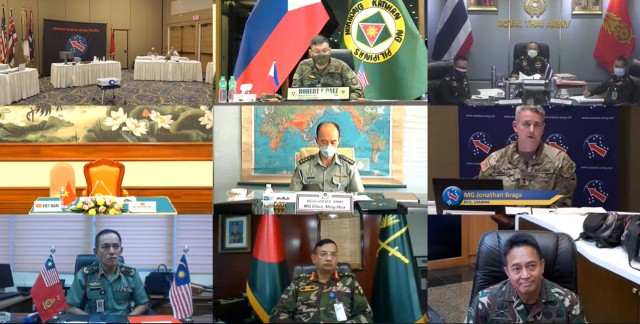 RELATED: AMERICA NEEDS NEW COVERT OPTIONS FOR GREAT POWER COMPETITION
"The Indo-Pacific is becoming a site for accelerating competition, long-standing issues of territorial rights, along with a tendency to prolong gray zone situations [leading to intensified] regional military modernization," said Maj. Gen. Robert C. Dauz, vice commander of the Philippine Army.
U.S. Army modernization responses should come at varying degrees, Braga said.
"I am not suggesting our Army, or any army, shoot at fishing boats, but I am also not suggesting all fishing boats are as they seem," Braga said, adding that illegal, unregulated fishing has eclipsed piracy as the most pressing security threat on the high seas.
"Whether it is synthesizing information, synchronizing nonlethal effects on the high seas, or when the ships return to ports of embarkation, these same skills can be used if it ever went to a higher-end crisis or conflict," he added.
Many Indo-Pacific nations have populations that depend on maritime resources for much of their economy, he said. When maritime issues arise, they become threatened by encroachments like illegal fishing.
"Whether it is terrestrial-based natural resources, pollution, [or] water access rights, there are a lot of parallels to what role the land component can use," he said. "This exploitation erodes both regional and national security, undermines maritime rules, jeopardizes food access and destroys legitimate economies."
Overfishing by adversarial nations, who do not follow international rules, norms and behaviors, has become a point of issue in that part of the world.
RELATED: PHILIPPINE OFFICIAL GOES OFF ABOUT CHINA'S AGGRESSION IN TWITTER RANT
"We have a role to play in observation regarding domain awareness," Braga said. "We have a role in painting the picture, and I think we can do so with intelligence, surveillance, reconnaissance [ISR], whether that's the expansion of unmanned aerial vehicles or even the adoption of unmanned underwater vehicles or drones."
When possible, the Army's modernization priorities can be complementary efforts to more than joint services, but also to a whole-of-government approach "to do something about the encroachments on the individual sovereignty challenges here," he said.
Braga added the Army can even help Indo-Pacific nations leverage their existing fishing fleets by helping observe illegal and unregulated fishing by fusing intelligence.
For example, the Army has a unique role of honing in on decades of its experience in the world of counterterrorism operations and intelligence gathering, Braga said. By fusing this real-world knowledge, the Army can collect information for allies and partners.
"We must learn from each other, improve our engagement and advance our lines of effort," Braga said. "Despite the challenges of the pandemic situation, there are some benefits as well — we can all virtually gather. We look forward to continuing to share these lessons learned."
---
Feature image: U.S. Army photo by Sgt. Alvin Reeves