Since 2008, the Military Spouse of the Year awards have been given to spouses who represent the very best of our military community, and Sandboxx's own Misty Lynn Veverka is in the running for this year's title.
Every year, one military spouse is selected to represent the Military Spouse of the Year program and its owner, Armed Forces Insurance, but over the years, other awards have been added to help better honor the incredible sacrifices made by these women and men. In 2009, one year after the award was conceived, branch specific awards were introduced to honor a Military Spouse of the Year from each of America's formal fighting institutions. But even with this expanded award set, many hard-working spouses continued to go unrecognized, so in 2013, installation-level awards were introduced to honor the military spouses who work tirelessly to support their families, communities, and the military at large at bases all around the world.
Base winners are announced on February 17, with branch finalist announcements following on February 25. Branch winners will be announced next month.
You can vote for Misty and see the other entrants by clicking here.
Misty Lynn Veverka works as Sandboxx's Military Representative at Training Center Cape May in New Jersey, which serves as the sole training entry point for all Coast Guard enlistees. She married her husband in 2008 at a courthouse during her lunch break (in classic military style), and before long she was executing her first PCS, traveling ahead of her husband while pregnant and with a three-year-old in tow. It was the first of many challenges to come, but amid five more moves and with a growing family to take care of, Misty still managed to earn not one—but three associate's degrees in Business, Human Resources, and Marketing respectively.
But Misty's focus hasn't just been on her family and herself (which would be plenty), she's also devoted countless hours to programs like Guardian Spouses and her installation's spouses club, both of which help new military spouses adjust to the the military lifestyle. She's also served as the chair for events and programs like Scholarships for Local Coast Guard Kids in Cape May and Stockings for Recruits, all while finding time to volunteer for programs like Wreaths Across America and more.
Throughout her work, Misty emphasizes the importance of educating and equipping military spouses for success, highlighting the programs available to spouses that many aren't aware of or don't know how to access. Her passion for helping military spouses to help themselves can be best summed up my Misty herself. This is what she says she'll do if she wins the AFT Military Spouse of the Year award:
"I hope to bring awareness of the many resources out there. I want to help empower spouses to be their own advocate for all the things military life can bring. This includes education, mental health, physical well being and general everyday life. Everyone can be a great self advocate with the right tools."

-Military Spouse of the Year nominee Misty Lynn Veverka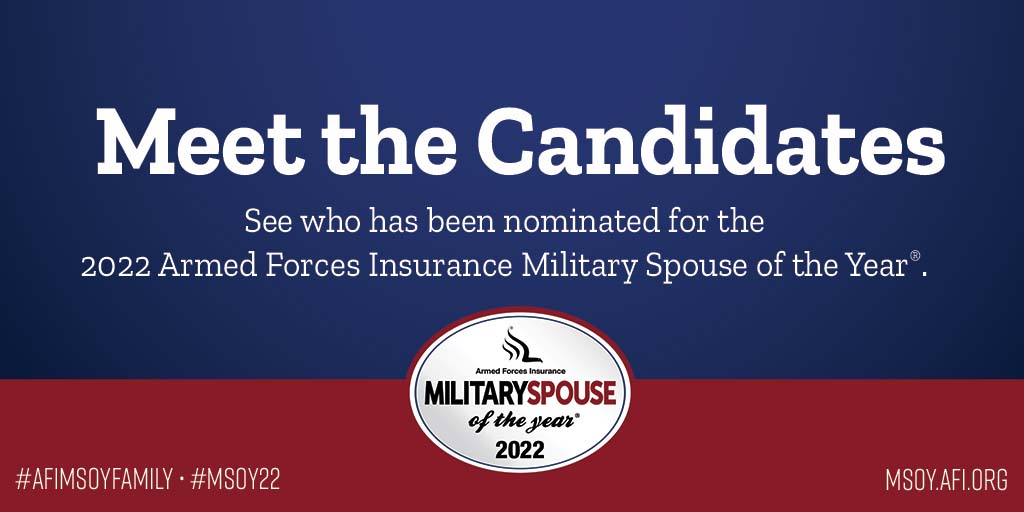 Those running for Military Spouse of the Year must be nominated and meet some basic criteria (entries can't be in the military, must be the spouse of a current service member, and may be required to participate in a video interview).
Installation spouse of the year awards are tabulated using popular votes submitted online, while branch and overall Military Spouse of the Years awards are determined through a combination of votes, advisory panels, and the Military Spouse of the Year organizers themselves.
The Judge Advisory Panel uses five forms of criteria to assess nominees: leadership skills, communication skills, community involvement, a passion for community building, and how compelling or inspiring their story is. Judge's votes and popular votes are collected and paired with conclusions drawn by the Military Spouse of the Year panel to declare the overall Military Spouse of the Year after the conclusion of installation and branch award voting.
Of course, not every incredible military spouse can win, and it's important to remember that while this recognition is well deserved, it's not the only way you can show the military spouses in your life how valuable they are to you and to our military community. Voting for Misty and any other military spouses that exemplify the best of us is a great way to show your support when voting time comes around each year… but even when voting's closed, it's never a bad time to offer your most sincere and heartfelt thanks.
You can learn more about the AFI Military Spouse of the Year award by following this link to their webpage.
Read more from Sandboxx News