Whether you're a new Airmen or a salty old Marine, it's in your best interest to know the Air Force ranks structure, along with the associating pay grades and insignias.
Before you get to basic training, most people don't have a very thorough understanding of military ranks, let alone the ability to put them in order. Everybody recognizes the ones that commonly show up in movies like sergeant, captain, or admiral, but where they fall on the pecking order of different branches isn't all that clear. And as those of us that have spent time in uniform can attest, having a good understanding of military ranks in the order of authority for our own branch doesn't necessarily mean you know how the rank structure looks in the sister branches.
Confusion about the order of military ranks can be made even worse from branch to branch by the common use of some easily-recognizable rank names (like sergeant or captain) for entirely different pay grades. A Staff Sergeant in the Air Force ranks structure is an E-5, whereas a Staff Sergeant in the Marine Corps is an E-6, as one example.
Knowing the Air Force ranks is essential for new Airmen, but it's also extremely important to new Soldiers, Sailors, and Marines as well. As a part of the Pentagon's effort to transition back toward great power competition, there has been more emphasis than ever placed on combining the strengths of multiple branches, and even multiple national militaries, to accomplish a wider variety of missions than ever before. In today's military, it's not enough to be able to do your job, you have to be able to do it well in a variety of scenarios, and while supporting a variety of mission sets. Knowing the rank structure of those around you will only make you more capable.
So without further ado, here is a list of all the Air Force ranks in order.
Air Force ranks and pay grades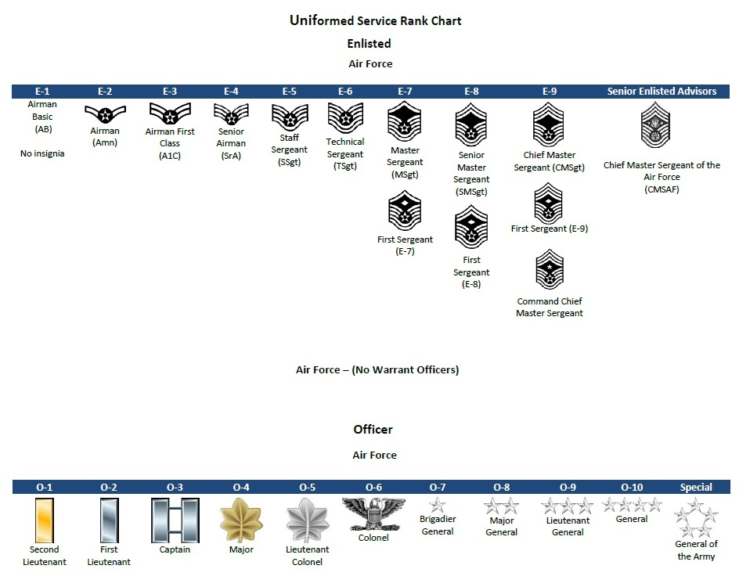 Pay Grade

Rank

Enlisted Personnel
 
E-1
Airman Basic
E-2
Airman
E-3
Airman First Class
E-4
Senior Airman
Non-Commissioned Officers
 
 
 
E-5
Staff Sergeant
E-6
Technical Sergeant
E-7
First Sergeant (Master Sergeant)
Master Sergeant
E-8
First Sergeant (Senior Master Sergeant)
Senior Master Sergeant
E-9
First Sergeant (Chief Master Sergeant)
Chief Master Sergeant
Special
Chief Master Sergeant of the Air Force
Warrant Officers
 
W-1
N/A
W-2
N/A
W-3
N/A
W-4
N/A
W-5
N/A
Commissioned Officers
 
O-1
2nd Lieutenant
O-2
1st Lieutenant
O-3
Captain
O-4
Major
O-5
Lieutenant Colonel
O-6
Colonel
O-7
Brigadier General
O-8
Major General
O-9
Lieutenant General
O-10
Air Force Chief of Staff General
**