The Boeing F-15 Eagle, originally designed and built by McDonnell Douglas, is a 4th generation American air superiority fighter famed for its reportedly undefeated record in air combat. The F-15 Eagle is a product of the Cold War, leveraging little in the way of stealth but a great deal in terms of brute force performance to make it among the most capable fighters on the planet today.
The F-15 Eagle first flew in testing on July 27, 1972, and officially entered into service on January 9, 1976. The platform has since proven so capable that a modified version intended to specialize in air-to-ground engagements was eventually fielded in the F-15E Strike Eagle. Just recently, an updated version of the classic F-15 Eagle, dubbed the F-15EX Eagle II, has gone into production.
Per the U.S. Air Force:
"The Eagle's air superiority is achieved through a mixture of unprecedented maneuverability and acceleration, range, weapons and avionics. It can penetrate enemy defense and outperform and outfight any current enemy aircraft. The F-15 has electronic systems and weaponry to detect, acquire, track and attack enemy aircraft while operating in friendly or enemy-controlled airspace. The weapons and flight control systems are designed so one person can safely and effectively perform air-to-air combat."
Specifications
(All specifications sourced from the United States Air Force)
Primary function: Tactical fighter, air superiority
Contractor: McDonnell Douglas Corp.
Power plant: Two Pratt & Whitney F100-PW-100, 220 or 229 turbofan engines with afterburners
Thrust: (C/D models) 23,450 pounds each engine
Wingspan: 42.8 feet (13 meters)
Length: 63.8 feet (19.44 meters)
Height: 18.5 feet (5.6 meters)
Weight: 31,700 pounds
Maximum takeoff weight: (C/D models) 68,000 pounds (30,844 kilograms)
Fuel Capacity: 36,200 pounds (three external plus conformal fuel tanks)
Payload: depends on mission
Speed: 1,875 mph (Mach 2 class)
Ceiling: 65,000 feet (19,812 meters)
Range: 3,450 miles (3,000 nautical miles) ferry range with conformal fuel tanks and three external fuel tanks
Crew: F-15A/C, one; F-15B/D/E, two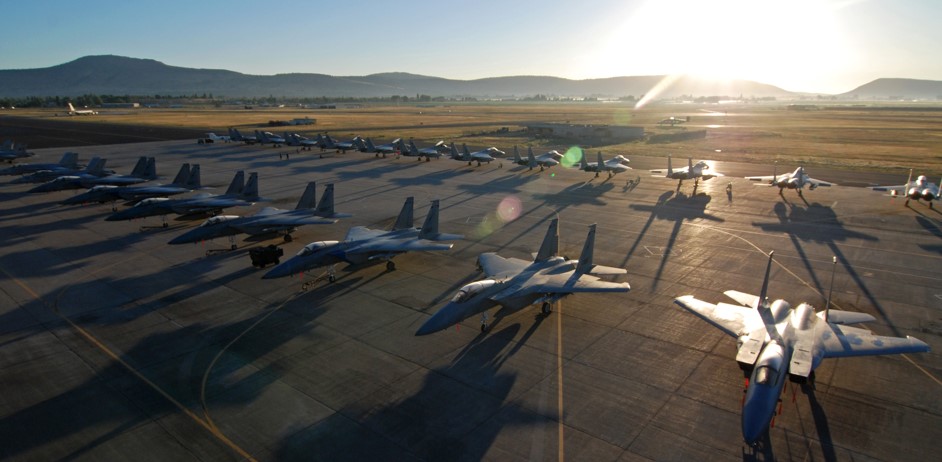 Armament:

Unit Cost:
A/B models – $27.9 million (fiscal year 98 constant dollars)
C/D models – $29.9 million (fiscal year 98 constant dollars)
Initial operating capability: September 1975
Inventory: Total force, 249 (as of 2019)
You can learn more about this aircraft on the Air Force fact sheet here.
Sandboxx's best stories about the F-15 Eagle