On Wednesday, the Army announced significant changes to the Army Combat Fitness Test (ACFT), doing away with genderless scoring and the leg tuck among a slew of other changes, set to become policy on April 1, 2022.
The new ACFT incorporates new scoring tables, updated physical events, and requires that Soldiers be given a minimum of six months to train prior to testing for their records. While minimum requirements remain gender-neutral, the new test incorporates "performance-normed scoring standards, scaled to age and gender" based on Soldier feedback and a third-party analysis conducted by the Rand Corporation.
"This test is an essential part of maintaining the readiness of the Army as we transform into the Army of 2030," said Christine E. Wormuth, Secretary of the Army in a Wednesday press release.

"The revisions to the ACFT are based on data and analysis, including an independent assessment required by Congress. We will continue to assess our implementation of the test to ensure it is fair and achieves our goal of strengthening the Army's fitness culture."
According to an Army press release, changes to the test's scoring parameters were developed through the study of some 630,000 recorded ACFT scores as they compared to traditional Army Physical Fitness Test scores. They also considered scoring rates recorded by other branches who have already incorporated newer events like the abdominal plank.
Related: How to improve your pull ups like a Navy SEAL
The leg tuck is dead, long live the Plank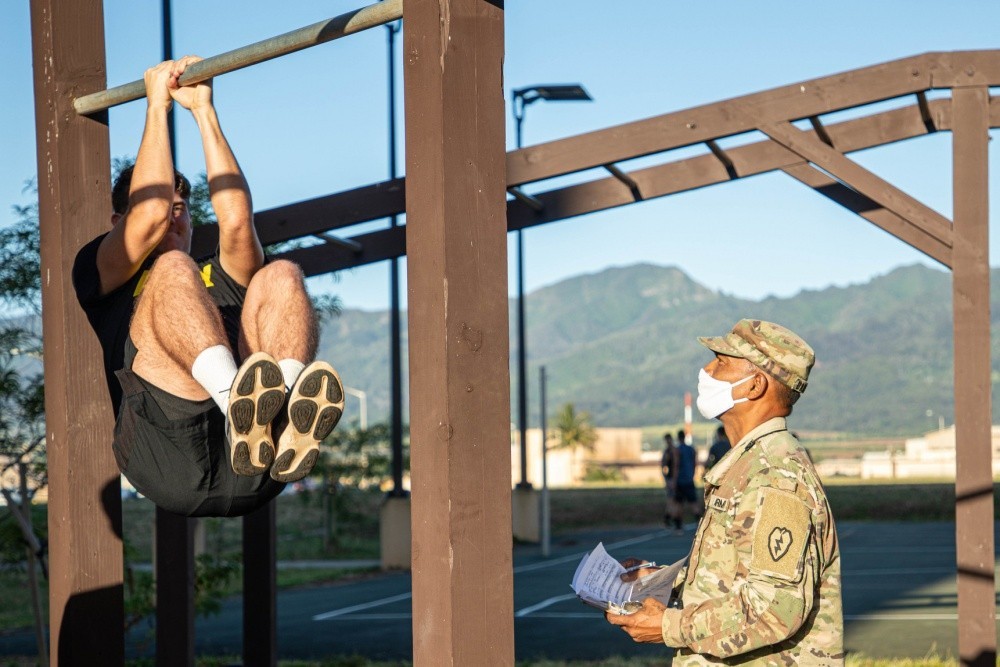 According to the Army, the leg tuck was removed from the Combat Fitness Test as a result of the Rand Study that concluded it was an unfair measure of a Soldier's core strength, as performing the exercise properly also required a fair amount of upper body strength (which other events already assess).
"The leg tuck, for example, was not useful in predicting performance on combat tasks," said RAND's Dr. Chaitra Hardison, the study's lead author, on Monday.
As a result, Soldiers will now be required to do abdominal planks, often just referred to as planks, for the core-strength portion of the test. Soldiers will be graded based on how long they can hold themselves in the proper plank position.
Here's a video from the U.S. Army Center for Initial Military Training that breaks down how to execute this event.
Related: US Navy to change to one PFA cycle per year, planks added
The 6 events in the Army Combat Fitness Test as of April 1, 2022
The updated ACFT will consist of six scored events, which will combine to produce their overall Army Combat Fitness Test score. Here are the events, as well as the Army's descriptions of what they test and why they matter:
Maximum Dead Lift (MDL)
Deadlift the maximum weight possible three times.
The MDL assesses the Muscular Strength component of fitness by measuring a Soldier's lower body, grip and core muscular strength. It requires well-conditioned back and leg muscles and helps Soldiers to avoid hip, knee and lower back injuries. Flexibility and balance are secondary components of fitness assessed by the MDL.
Standing Power Throw (SPT)
Throw a 10-pound medicine ball backward and overhead for distance.
The SPT event assesses the Power component of fitness by measuring a Soldier's ability to generate quick, explosive movements with their upper and lower body. Secondary components of fitness assessed by the SPT include Balance, Coordination and Flexibility.
Hand-Release Push Up (HRP)
Complete as many Hand-Release Push-ups as possible in two minutes
The HRP assesses the Muscular Endurance component of fitness by measuring a Soldier's upper body endurance. The HRP is a strong driver for upper body and core strength training. Flexibility is a secondary component of fitness assessed by the HRP.
Sprint/Drag/Carry (SDC)
Conduct 5 x 50 meter shuttles for time – sprint, drag, lateral, carry and sprint
The SDC assesses the Muscular Endurance, Muscular Strength, Anaerobic Power and Anaerobic Endurance components of fitness by measuring a Soldier's ability to sustain moderate to high intensity muscular work over a short duration. Secondary components of fitness assessed by the SDC include Balance, Coordination, Agility, Flexibility and Reaction Time.
Plank (PLK)
Maintain a proper plank position for as long as possible
The PLK assesses the Muscular Endurance component of fitness by measuring a Soldier's core strength and endurance. Balance is a secondary component of fitness assessed by the PLK.
2-Mile Run (2MR)
Run two miles for time on a measured, generally flat outdoor course.
The 2MR assesses the Aerobic Endurance component of fitness. Higher aerobic endurance allows a Soldier to work for long periods of time and to recover more quickly when executing repetitive physical tasks.
Related: How to deal with shin splints like a Green Beret
Scoring the updated ACFT in 2022
Scoring for each event is now broken down by age group and gender, to ensure all Soldiers have a fair shake at passing the test while the Army can still maintain strict standards regarding overall fitness.
You can access the full scoring table for the ACFT by following this link.
Active duty Soldiers will need to run the new Army Combat Fitness Test for score by October, 2022
Soldiers will begin performing the new ACFT starting on April 1, 2022, with both active duty and reserve Soldiers required to take the test for score beginning on October 1, 2022. Each Soldiers first test for record must be executed prior to April 1, 2023, for Active Duty troops, while reserve and Guard Soldiers will have until April 1, 2024.
Read more from Sandboxx News