Read the original article on Military.com. Follow Military.com on Twitter.
Special Forces leader Capt. Rick Flag will be back in the movie relaunch of DC Comics series "The Suicide Squad," due in theaters and streaming on HBO Max on Aug. 6.
Carrying over from the 2016 movie, Flag again will be played by Joel Kinnaman ("For All Mankind") and still be operating under the direction of shadowy government figure Amanda Waller, played by Viola Davis (currently nominated for a Best Actress Oscar for "Ma Rainey's Black Bottom").
Capt. Flag is supposed to lead a team of villains who are given an opportunity to shave time off their incredibly long prison sentences if they participate in and succeed at covert missions that have a low possibility of success. They're villains, so they don't play well with others and don't always respect their leader's authority. Flag has to keep the missions from falling apart and convince the bad guys to do some good.
The new movie was written and directed by James Gunn, best known for his two Marvel "Guardians of the Galaxy" movies. When he was fired by Disney after some controversy over old, inappropriate and unfunny tweets, DC scooped him up and gave him free rein to do his thing here.
For this reboot, he's assembled an all-star cast. Margot Robbie (Harley Quinn) and Jai Courtney (Capt. Boomerang) return from the first movie. Flag and Waller assemble a new team this time that includes John Cena (Peacemaker), Michael Rooker (Savant), Flula Borg (Javelin), David Dastmalchian (Polka-Dot Man), Daniela Melchior (Ratcatcher 2), Idris Elba (Bloodsport), Pete Davidson (Blackguard), Nathan Fillion (T.D.K.), Peter Capaldi (Thinker) and Storm Reid (Tyla).
Warner Bros. has just released an adults-only trailer. "The Suicide Squad" definitely will be an R-rated superhero movie, just as much for the torrent of profanity as for the violence.
Obviously, Peacemaker is committed to liberty at whatever cost. The big surprise in the trailer is comics character King Shark showing up and the fact that he's voiced by Sylvester Stallone.
There's obviously a situation on an island called Corto Maltese, most likely with a dictator doing whatever dictators do. They get dropped in to clean up whatever mess the government can't use regular special forces to fix.
Capt. Flag got used and abused in the 2016 "Suicide Squad." He fell in love with June Moone, the woman he was tasked to protect, and spent most of the movie agonizing over his belief that killing the villain Enchantress would cost June her life.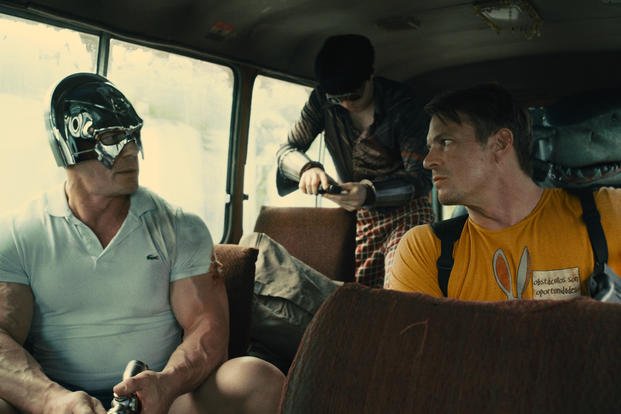 Not a good look for a soldier, and director David Ayer ("Fury," "End of Watch") has long insisted that the studio took the movie away from him and changed his plot. That has led fans to call for an "Ayer cut" of the 2016 movie, along the lines of the new "Snyder cut" remake of "Justice League," but Warner Bros. recently shot down that idea.
If you haven't been following the drama, director Zack Snyder left the production of the 2017 "Justice League" movie due to a family tragedy. Director Joss Whedon radically changed the movie as he completed it and fans have been clamoring for Snyder's version ever since. The new HBO Max streaming service paid a hefty sum for Snyder to shoot additional scenes and add effects to make his new four-hour version of the movie.
Even though Disney relented and has rehired Gunn to make a third "Guardians of the Galaxy" movie, he wrote "The Suicide Squad" during that long period when he was cancelled. He had things to prove and a score to settle, so expect this new movie to push a few boundaries when we see it later this summer.
Will Capt. Rick Flag survive this suicide mission? Will he be allowed to focus on the task at hand and be his best self this time out? Will a new set of villains be any more cooperative than the unruly crew he led in the first movie?
Most importantly, should our government engage in this kind of outsourcing of national defense priorities? The characters may be outrageous, but rumors persist that the structure of this program is a lot closer to reality than anyone in Washington will admit. We'll revisit "The Suicide Squad" this summer once we've all had a chance to see it.
-by James Barber