It is hard to make good spy fiction. The average espionage book, show, or film is usually either an outrageous action-fueled fantasy—punctuated by explosions, hand-to-hand combat, and James Bond-inspired, overly-complicated global conspiracies—or, it is a cynical, dark, and overwrought human-propelled psychodrama, where the senior intelligence service leaders (and their political overseers) are exposed as corrupt and amoral puppet-masters, who move individual agents around a chessboard like so many pawns, all in the name of some nebulous and debased "national interest."
I hereby christen those latter pieces of art as "depress-pionage," given their unceasingly bleak points of view.
Related: A CIA officer's 5 favorite spies from TV and movies
Most spy fiction is more about fiction than spies
Espionage fiction that falls into the first camp is your popcorn spy stuff: Jason Bourne, James Bond, the television version of Jack Ryan, and the like. The second category includes basically anything from John le Carré, whose books, and the many movies adapted from them, pretty much own the category. Sometimes, however, there are books, movies, or shows that come a little closer to reality, while admittedly still containing some elements of either or both of the action-adventure and "depress-pionage" genres.
Into this third category falls some great spy fiction (not that some in the other two categories are not also great). As defined by this author, these third-way pieces of spy fiction tend to be those that offer a glimpse into what it is really like working for a clandestine intelligence service, with its mix of secret-squirrel ambiance, "The Office" levels of drudgery, bureaucratic frustrations and limitations, and moments of real excitement, tension, and even life-threatening danger.
Into this category, I would place some novels, such as "The Hunt for Red October" (Clancy), "Tinker, Tailor, Soldier, Spy" and "The Spy Who Came in from the Cold" (le Carré), "Six Days of the Condor "(James Grady), and "The Quiet American" (Graham Greene). There are also films, like "Charlie Wilson's War," "Munich," and even "The Departed," which also fall into this same bunch. And yes, I know, "The Departed" is about cops and criminals, but trust me, it is also about espionage. Finally, great spy television shows have included "The Americans," "Fauda," and even "Archer," in the way the latter satirizes the genre. 
Related: The 5 best military movies of the 1990s
"Slow Horses" looks to be entertaining and thoughtful spy fiction
One more piece of small-screen fiction that has the potential, so far, to be added to this list of entertaining and thoughtful spy fiction is "Slow Horses," which streams on Apple TV+ and is an adaption of the novel of the same name, by Mick Herron.
The show features star Gary Oldman (also from the 2011 film version of "Tinker, Tailor…") as Jackson Lamb, who heads up a unit of British MI-5 officers who, for various mistakes, indiscretions, and personal foibles, have found themselves disgraced, blacklisted, and banished to an MI-5 station referred to disparagingly as "Slough House." The station name is a reference to it being far removed from the beating heart of MI-5 headquarters in Regent's Park.
Oldman is as sharp as a stiletto in the first two episodes of the show, depicting a drunk, bitter, and delightfully ornery station chief who relishes nothing more than making his subordinates' lives miserable in the name of reminding them why they ended up in Slough House. His insults come fast and furious, and are delivered with such black-hearted thrusts that they cut each victim to the miserable and already suffering bone. Lamb's personality is as worn out and decrepit as his hole-ridden socks, and the viewer can almost taste Lamb's disgust with his charges—which makes for highly entertaining viewing.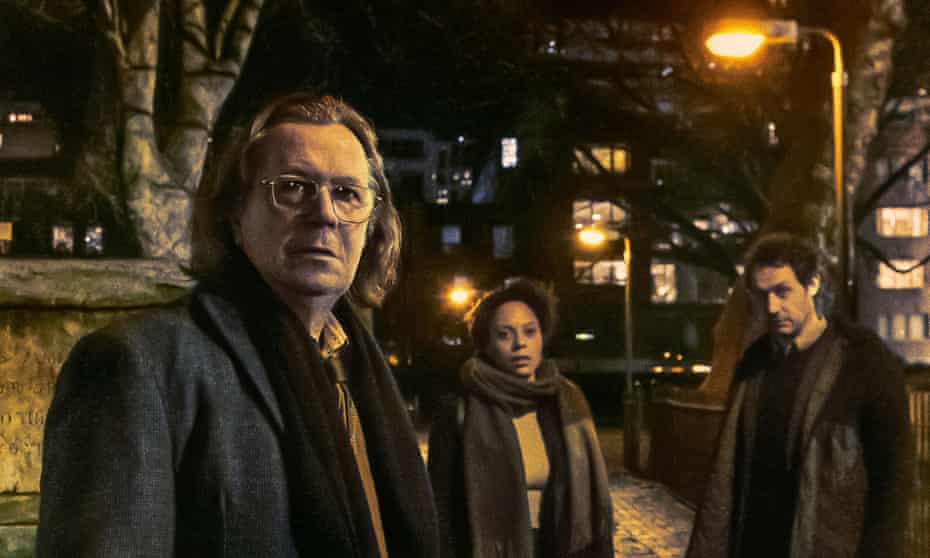 Related: Everything they got wrong about the Harrier in 'True Lies'
The main character of the series is a recently-assigned (and disgraced) MI-5 officer named River Cartwright, who wastes no time in turning what appears to be a dead-end assignment into a real case that needs urgent solving to save the life of a British-Pakistani citizen recently kidnapped and being threatened with imminent beheading. The first two episodes do a stellar job of establishing the fetid environment of Slough House, the shady involvement of MI-5 senior leader Diana Taverner (played by an icy and uber-competent Kristen Scott Thomas) in the building suspense, and the personalities of those who look to be the primary players in the drama/thriller.
Oldman's Lamb is one such, and the showrunners have imbued the character with just enough redeeming curiosity about the case that one can see the possible future about-face he might make, as the show goes on, toward leading his team of outcasts and has-beens to solve the mystery. It is early days, though, as only the first two episodes have rolled out, and we are still in the character-revealing phase of the plot. 
Related: How the CIA hijacked a Soviet spacecraft in 1959 
Those characters include an insufferable hacker, a recovering alcoholic whose husband came to a tragic end, an overly-chipper and annoying Scotsman, and a seemingly out-of-place female agent who appears way too competent to have been relegated to the administrative purgatory of Slough House.
The show's creators also paint us a picture of the bureaucratic tension between headquarters and Slough House, and they throw in a healthy dose of extremist politics and shady journalism to round out the plot. While I cannot guarantee that the series will not eventually take a turn toward the ludicrous (or the overly dark and depressing), so far it appears to be on track to entertain and offer a pseudo-realistic look at the internal workings of one particular intelligence branch within the British Security Service.
Really, when it comes to spy fiction, that is about all one can ask for, and you will not regret giving "Slow Horses" a try. You might even find yourself waiting impatiently for the next episode.
Read more from Sandboxx News